The V8 GTS is one huge CPU cooler that one could mistaken for a helmet, or perhaps a collectible item that's based on some mech based animation.
Here's the view from the top, as you can see it's symmetrical.
At the side are rows of heatsink fins, it's interesting that it's placed that way as it looks like the fins will heat up the air that's heading to the core of the heatsink.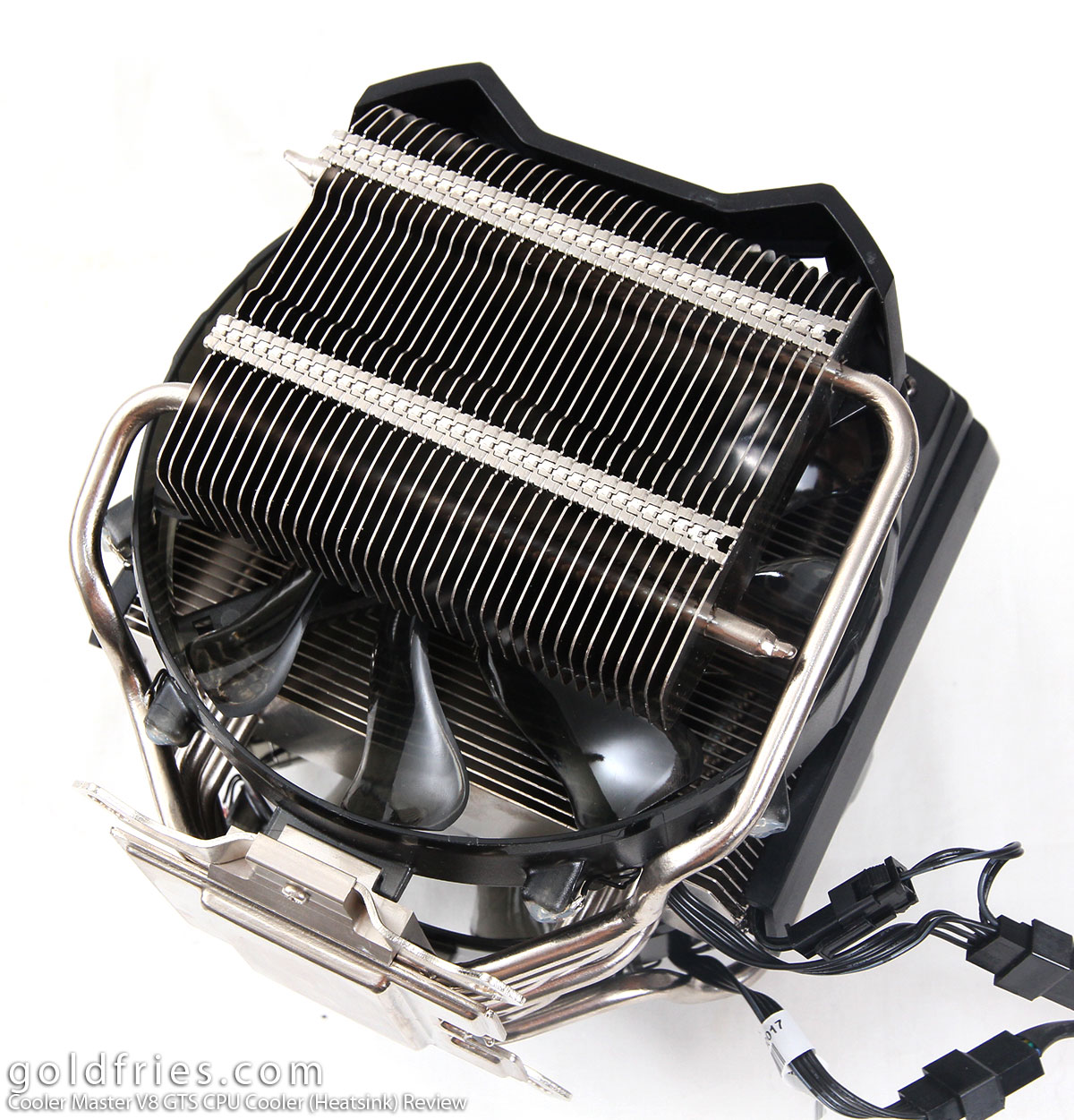 Symmetrical it is. This is the best view to understand how it works. It has 3 fin towers and in between are 2 fans that move air across from one end to the other.
Here's a view from the bottom angle, you'll see that there are LEDs on the fan.
And just how big is this heatsink? Here's the V8 GTS placed on the ASUS Z97I-PLUS Mini-ITX sized board.
I did mention LEDs, did I? Here's what it looks like when powered on.
The cover on the top side is semi-transparent so you'll get a fiery glow there.
Since the V8 GTS is red colored, it'll only pair well with red themed setup. I don't think the red LED would look appealing on green or blue themed setup. Talk about color mismatch.
Anyway, below are the specs for the V8 GTS as shown on the official product page.
Test Setup / Benchmarks
CPU load was done by converting 10bit MKV video to 8bit using x264, set to -veryslow mode.
Temperature was monitored using HW Monitor. Room temperature is around 25°C.
Setup 1
Processor : Intel Core i5-4670K on 4.3Ghz @ 1.25vcore
Motherboard : ASUS Z97I-PLUS
| | | |
| --- | --- | --- |
| | Idle (°C) | Load (°C) |
| CM V8 GTS | 33 | 64 |
| Stock Cooler | 33 | 86 |
Setup 2
Processor : AMD FX-9590 on Stock
Motherboard : ASUS Sabertooth 990FX R2.0
| | | |
| --- | --- | --- |
| | Idle (°C) | Load (°C) |
| CM V8 GTS | 32 | 78 |
| CM 140XL | 32 | 54 |
| CM Nepton 280L | 32 | 52 |
The Verdict
Retailing at around RM 260 (approx 90 USD), the V8 GTS will perform well on every processor out there UNLESS it's the AMD FX-9590, it's so hot that AMD bundled water cooling for.
Those with smaller casings, this cooler might not be the one for you due to its size.

goldfries rated this product :