Is freedom of movement a problem for you when it comes to enjoying music? The H8060 is a wireless stereo headphone that brings you that freedom.
The H8060 isn't a bulky headset, it's light on the frame and small on the ear piece. The H8060 isn't one of those that requires you to attach some USB connectivity device and install drivers just to get it up and running, none of those at all.
It comes with a receiver unit that's to be connected to your audio source and it's powered by an adapter. The receiver unit supports both 3.5mm and RCA jack connectivity.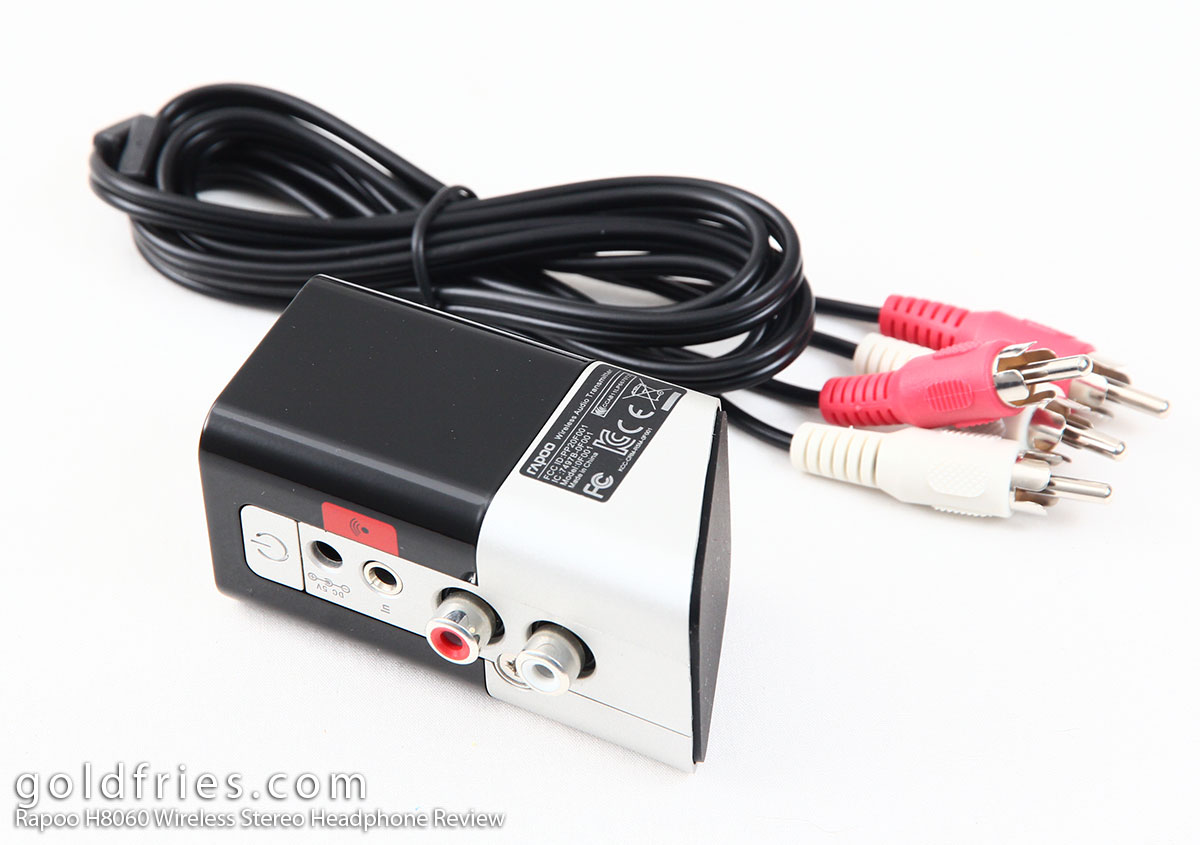 Here's the bundled adapter and 3.5mm cable.
This is the volume control that's placed on the headset, it's touch sensitive so changing volume requires minimal effort.
Here's what the cushion on the ear piece looks like.
More details at the official product page.
The H8060 is said to have up to 8-hours playback time on full charge and it works up to 8 meters away from the receiver.
User Experience
Installing the device was a breeze, although the tables can be a little messy during the charging. The AC adapter powers the receiver and charges the headphone.
The H8060 isn't the most comfortable of headphones but don't worry, it's not uncomfortable to use. The padding at the ear piece is sufficient to ensure comfortable usage while its light weight nature doesn't give you any headache. There's soft padding at the bend of the head band and the head band's pressure applied to the sides of the head is just nice.
As for audio quality, I tested the H8060 on the HTC One and with everything on default setting, the output feels a little short on mid tones and treble, giving it a more bassy behavior. Once I got my usual presets fired up, the H8060 performs admirably, only to fall short on the bass part which is something not surprising for headphone of this size.
I also love the touch operated volume adjustment. 😀 Gotta hand it to Rapoo on having this feature on the H8060.
On the downside, this headphone is NOT something portable. You need to have the receiver powered in order to use it so this is definitely not something you lug around throughout the day for some good music.
The Verdict
The Rapoo H8060 Wireless Stereo Headphone retails at RM 129, it's a headphone that gives you freedom of movement and it should fit the bill for most people in the audio department except for the discerning audiophile. Within the package is a receiver, 2 cables that allow you to connect via 3.5mm or RCA connection. The H8060 comes with 1-year warranty.

goldfries rated this product :