AIO cooling solutions are the norm now but what do you do when you have a small casing and need more space? You look for the SilverStone Tundra TD03-SLIM.
Out of the box the Silverstone Tundra TD03 looks no different from any other AIO system but upon closer look, you'll notice the difference.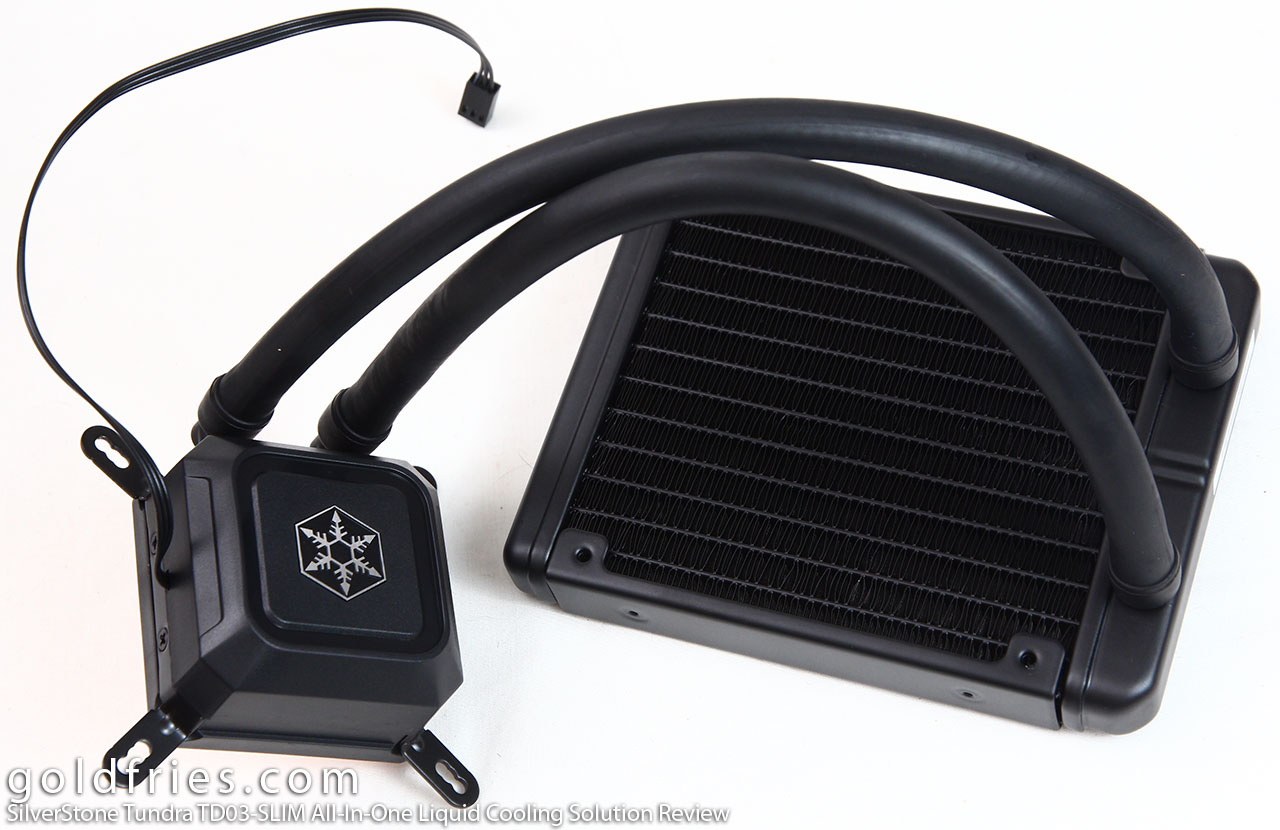 The Tundra TD03 is SLIM hence it has a slim radiator unit measuring only 22mm in thickness.
The pump unit comes with Intel mount brackets pre-installed, as you can see it has copper base with no pre-applied thermal paste. The unit comes with 310mm rubber tubes.
For airflow, the Tundra TD-03 relies on a 120mm slim type fan that's only 15mm thick, does up to 2200 RPM and delivers up to 35.85CFM airflow.
The Tundra TD03 comes with a host of accessories, including fan power connector and a small tube of thermal paste that should last you a few installations.
Full specs of the Tundra TD-03 is as below, taken from the official product page.
User Experience
Installing the AIO wasn't as simple as it seems because the screws look quite similar, of course that's settled once you identify them. One thing I like about the Tundra TD03 compared to other AIO unit is the backplate design, as you can see from the image below the mounting piece has a cut across that makes it stick very well to the base. On some heatsinks the mount is problematic and ended up being stuck on the plate during removal.
Benchmarks
The performance was tested on an Intel Core i5-4670K overclocked to 4.3Ghz at 1.25 vcore with room temperature set to 25°C and the system was tested with a 10bit to 8bit video conversion test. Below are the results.
| | | |
| --- | --- | --- |
| Cooler | Idle (°C) | Load (°C) |
| Tundra TD03 (normal) | 34 | 64 |
| Tundra TD03 (full) | 32 | 62 |
| Tundra TD03 (silent) | 35 | 65 |
| CRYORIG R1 Universal | 26 | 64 |
| ID-Cooling FrostFlow 120L | 27 | 60 |
| ThermalTake Water 3.0 Performer C | 32 | 60 |
| Stock Cooler | 33 | 79 |
The Verdict
SilverStone Tundra TD03-SLIM retails at around RM 320, it's not the cheapest of AIO but I love the build and the slim nature of it. Despite the smaller radiator and slim fan, the Tundra TD03 was able to tame my overclocked processor with ease even on silent mode. Lovely product!

goldfries rated this product :