If your casing doesn't come with PSU cover then the ThermalTake Toughpower Grand RGB power supply might be the one for you, especially if you love RGB lights.
The ThermalTake Toughpower Grand RGB model as seen in this article, which is the 650W model, is fully modular and these 80Plus Gold models are available in also 750W and 850W variants.
While the ThermalTake Toughpower Grand RGB sports a 256 color RGB fan, the 256 RGB is only used when the lighting is selected in "cycle" mode of which it will cycle through the colors. On manual selection the LED is only available in 5 modes – Red, Green, Blue, White and OFF.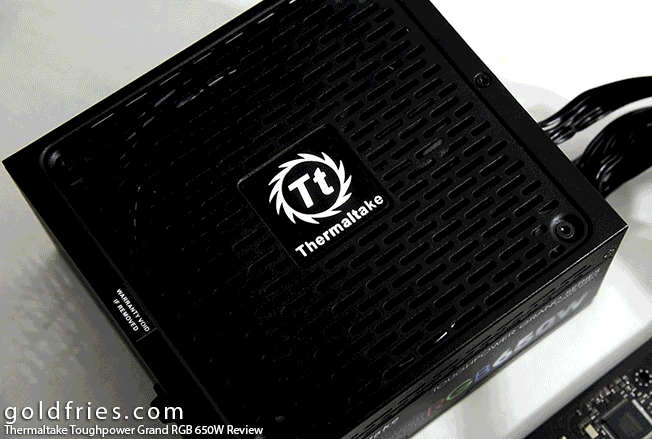 What I like about the ThermalTake Toughpower Grand RGB is that it also comes with the Smart Zero Fan mode where the fan doesn't spin until it touches 20% the PSU load.
Here's the power delivery table for the ThermalTake Toughpower Grand RGB.
More details at the Official Product Page.
User Experience
The ThermalTake Toughpower Grand RGB is a splendid PSU, the flat type cables are much welcome when it comes to cable management.
The RGB lights on the PSU is a little disappointing but it's better than nothing, what's more important is that the ThermalTake Toughpower Grand RGB comes with a 140mm fan and that it has a silent mode which is the feature I treasure the most.
The power supply withstood my load test, of which I managed to pump up to around 600W wall draw which is estimated to be about 540W from the system, running multiple GPUs and an Intel Core i7-5960X on full load and stressing it for more than 8-hours.
Thermaltake claimed that the power delivery wouldn't be more than ±2% on the major rails.
The voltage regulation of the PSU is set to no more than ±2% for major rails to meet the highest performance. The strict voltage regulation of the Toughpower Grand RGB Gold is better than Intel's standard ±5% for major rails and ±10% for -12V.
Taking the 12V rail for example, the delivery is expected to be between 11.76 to 12.24 and I did monitor the 12V rail with my digital multimeter and the reading remains at a solid 12.14 on both idle and load which is exactly as what Thermaltake claimed.
The Verdict
The ThermalTake Toughpower Grand RGB 650W retails at around RM 500 which is an excellent price point for a 650W PSU with not only a beautiful looking colored LED fan but also has with low speed low noise operation, not forgetting it also has a 5-year warranty.
goldfries rated this product :