The side and top panels are of single piece, once removed you'll see the drive mounts – one next to the PSU area while 2 others towards the front. From here you can also see that the frame is of solid steel, and they're quite huge thus solidifying the Sugo SG13's structure.
The unit comes with motherboard mounting points pre-installed.
How about adding a graphics card to the setup? Yes you can but you won't be able to install huge graphics card like this ASUS Strix R9 Fury.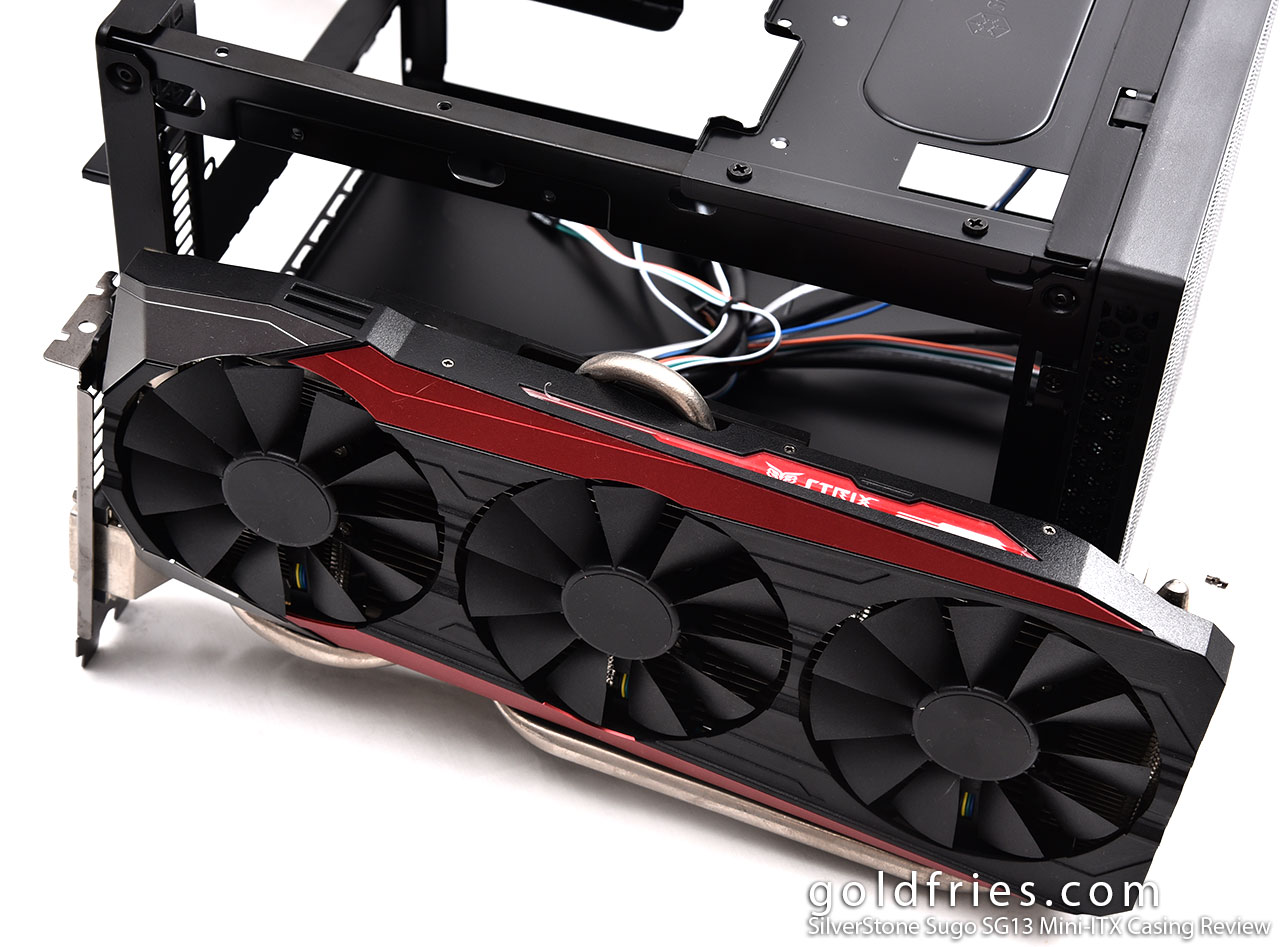 Cards with length like this Sapphire R9 380X will fit, however this Sapphire R9 380X is a tall card so getting it into place was a problem. Even if you did, you'll have problem mounting the PCI-E power connectors. I didn't manage to have the R9 380X installed mainly because of the lack of space due to the AIO cooler I've had in place.
Wait? AIO? As in All-In-One cooling system? Yes you can fit it, it's just as what's seen in the official product page,
What the product page doesn't tell you is that there is a HUGE limitation once you decide to place an AIO unit in the system.
AIO tubes for Silverstone's TD03 models are 310MM in length. I tried mounting it in various angles and deemed this to be best, one that doesn't clash with the PSU and have sufficient room for the graphics card but even so, the difficulty increases with the length of the card, the height of the card and whether or not the card has a backplate.
In this case, the Sapphire R9 380X has all 3 of the above mentioned features that make it difficult to be installed on the Sugo SG13. Based on measurement alone the card FITS perfectly but the difficulty is in getting the card into place as the thick steel frame obstructs a lot of movement.
The Verdict
The SilverStone Sugo SG13 Mini-ITX casing is a compact and beautiful casing that accommodates ATX PSU and AIO cooler, the model reviewed here is the SG13B that retails at RM 230 while, SG13B-Q with brushed-metal-like front panel retails at RM 235.

goldfries rated this product :