HP claims that the Ink Advantage 2520hc is capable of producing up to 1,500 prints from a single ultra-high-capacity Original HP ink cartridge – something that will be really costly for me to test unless HP provides the paper and all but nevertheless, I did spend some time with the printer and thought it to be an interesting product.
Here are the pictures, nothing fancy. A printer is a printer, I'd hate to have to spend time describing what you can see in the photos.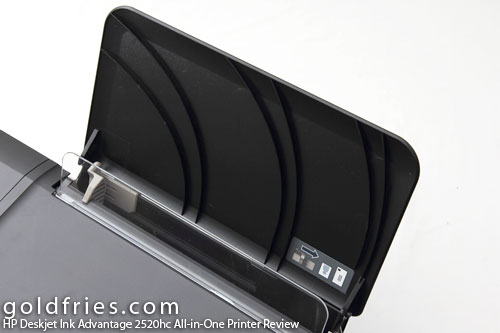 More details at the official product page.
User Experience
Installation was a breeze, I just connected the printer to a Dell Latitude 10 with Windows 8 operating system and they both just work, no driver installation done.
What I did was then printed a commercial photo that I did about half a year ago, one of which I also had the opportunity to print from an RM 70,000 HP printer with high quality paper. 🙂
Overall I find that the print quality for the HP 2520hc is very good for something priced under RM 400. I used a decent grade color inkjet paper for the test and I'm surprised to see the details are retained very well.
Colorwise it's of a higher contrast compared to my original high-grade printed image. The HP 2520c also has slightly noticeable banding and loses out on details (dynamic range) on the dark areas.
Printing an image as such (the image size was 9.9MB) took a little over a minute, of which 30 seconds were used to transmit the image. I also did a copy of the printed image and the output was of a very much higher contrast and brightness. My guess is that the system brightens the scanned image before print.
The Verdict
As what I mentioned earlier – it's a great printer for under RM 400. Installation was a breeze and the printer worked without driver installation, I didn't even have to browse the user manual. 😀

goldfries rated this product :