Here's an awesome cooler that works like water cooling without having to go through the hassle of it.
I've been overclocking for more than a decade now, and I've never gone into water cooling as I find it tedious. I don't think it's a problem if I were to stick my set of components and never change for a really long time but that's just not me. Being an enthusiasts, I love to change parts once in a while and having a complex or difficult cooler means an overall more tedious process.
This is exactly why my Tuniq Tower 120 Extreme is just on the shelf, because it's heavy and tedious to install. As for my Coolermaster Hyper TX3, it's on the shelf too because I just love the simplicity of the stock heatsink. 😛
Enough about my preference, let's look at the H50 – when I got the box, I was sure that it was water cooling but it looked really simple.
The Heatsink
The Corsair Hydro Seriesâ"¢ H50 CPU Cooler gives you the power of liquid cooling in a compact, easy to install package. You get superior cooling for higher overclocking performance without the complexity of traditional liquid-cooling systems.
Compact? It's somewhat compact. Easy to install? Yes it is, I still had to refer to the manual in case I missed out anything but installation was a breeze but I had to remove the motherboard (I really hate doing this) and replace the mounting bracket in order to use the H50.
Here's the unit right out of the box.
Simple isn't it? I don't think you need photos of the screws and bracket. It comes with the bracket for LGA1156, LGA1366 and AM2 / AM3.
My initial thought was "Where's the pump?" – In a water cooling setup, we have the water block, the pipes (tubes), the pump and the radiator. In this case, I see it's an all it one thing but without a pump?
Apparently it's a pre-filled, closed-loop system with an integrated pump and a reservoir that is sealed for zero maintenance and improved leakage protection. (Rephrased from the product website, hu hu hu).
Here's the water block, itself.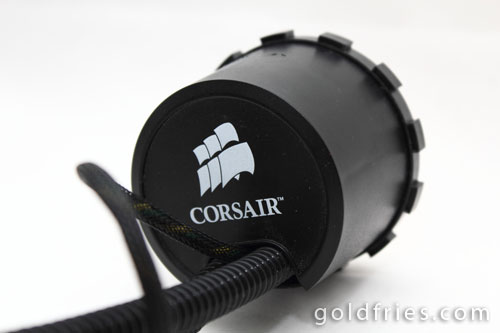 At the base of the water block is a copper CPU contact.
I used the Arctic Cooling MX-2 thermal paste for the contact point.
Then we have the radiator unit, basically a fan pushing air through the grille for heat dissipation.
The neat think about this unit is that after mounting it, all you have to do is connect 2 of the power connectors to the motherboard. 1 for the pump and 1 for the fan. Simple.
The Performance
Tests were done when room temperature is about 25°c.
Processor used was an AMD Athlon II X3 425, tested only on overclocked state.
Note the rather high voltage and speed of the overclocked processor.
Heatsink
H50
Hyper TX3
Stock
Idle Temperature
22°C
24°C
28°C
Load Temperature
42°C
47°C
… BSOD…
I've mentioned quite often on lowyat.net that I use the Overclocked X3 425 with stock cooler and it's fine, well it was actually. That's because I never stress tested it. So I did it this time with Lavalys Everest and whhhhheeeeeee we have BSOD! (Blue Screen of Death, aka system crashed). Last temperature reading I saw as a whopping 87°C in a an already air-condition room at 25°C and using a casing with great airflow.
Sound? The 120mm fan is silent. Check out the H50 in action with the Corsair 600T casing.
Conclusion
It runs really cool, and that's more than 40°C between the H50 and a stock cooler.
Is it all that good? Well, almost. 2 thing I must highlight.
Firstly, the price – it's priced over RM 300, the lowest I come by was at RM 335 or so. Not bad a price actually, considering it's a water-cooling setup and does considerably well. This might not be the choice of seasoned water-cooling users, the sheer enjoyment of hand-picking the components rather than using an all-in-one setup but for people like myself who loves simplicity – I must say that I'm almost a convert!
Secondly, the size – I'm using a Coolermaster Centurion 590 casing and I can't mount the H50 properly on the 120mm fan area at the back of the casing. I did however manage to place the unit in a decently stable manner as the tubing's tension, along with the help of the casing's structure.
Do I like this product? A resounding YES to that to people like me who loves to push the processor to the brink of breakdown. For those who aren't into such hardware sadism and also for those who have budget constraints – clearly this is not for you.

*Sorry for the lack of article over the past 2 weeks. There's just so many things to do, I decided not to post anything – basically a break from my blogging routine. I'm back now. 🙂
For those of you who are in Malaysia, check out the promotion with HWM magazine. Get the cut-out and you'll get to buy the 600T Casing and / or the H50 CPU Cooler at discounted price. Offer only valid for November 2010.
goldfries rated this product :