The say that the Asus RT-N12HP High Power Wireless-N300 is tall is an understatement.
By router standards, it's REALLY REALLY TALL!
Looking at the device itself, you could actually use the antenna for various other purpose, weapon included.
Nothing out of the ordinary in terms of design. Below are the LAN ports.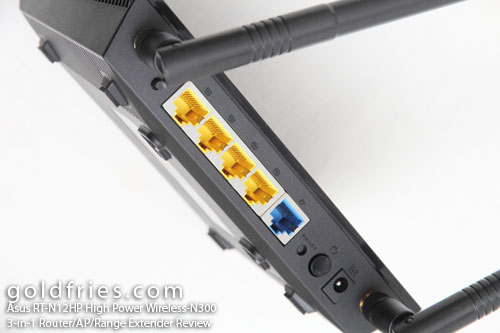 Then there's the ventilation.
More details at the official product page.
User Experience
The key selling point of this router is the Range Extender, I love it!
Setting up was easy. Just hope on to the router signals and follow the easy steps.
In this mode, just set it as how you would setup your WiFi connection. Choose the WiFi signal to hop on and it's set. The RT-N12HP now takes over the SSID.
There's no need to change settings on all devices as they'll join the SSID, only this time the SSID comes with a stronger signal.
I placed this unit on the upper floor of my residence, and the devices in the living room that were seeing 1 – 2 bars strength signals are now seeing 4 – 5 bar strength signals.
The Verdict
This is probably the most cost effective way improve overall connectivity. The signals are really good and the device comes at an SRP of RM 229 only.

goldfries rated this product :