The TB4 in the name refers to THUNDERBOLT – which is the unique selling point of the board as it comes with Thunderbolt ports.
There good clearance around the area surrounding the processor, though the capacitors seem quite near to the socket where the heat generated is the highest. I like the CPU12V placement which is far on the top and not near any heatsinks.
Nothing unusual on DIMM corner of this board.
Forward facing SATA ports, and even onboard buttons for POWER ON and RESET. Strangely though, the buttons have this uncanny resemblance to the ones that are on my MSI board. Even the debug LED seems awfully familiar but it's always something that I welcome. Sure beats annoying PC Speaker beeps.
3 well spaced PCI-E slot – single at x16 (PCIE1); dual at x8 (PCIE1) / x8 (PCIE3); triple at x8 (PCIE1) / x4 (PCIE3) / x4 (PCIE4)) as according to the product page.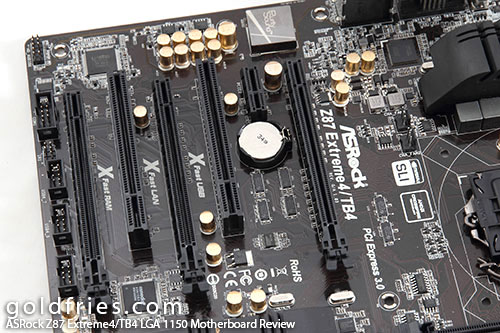 And lastly we have the I/O ports.
From the product page
– 1 x DisplayPort Input for Thunderboltâ"¢ port
– 2 x Thunderboltâ"¢ Ports (Support Thunderboltâ"¢ devices or DisplayPort monitors)
😀 A whole lot of TB goodness.
More details available at the official product page.
The Verdict
Coming at almost RM 700, this board from ASRock is solidly built and comes with other ASRock premium features like the audio system, A-style home cloud, HDMI Input/Output and so on.
This board is just perfect for machines that you would like to use for both work and play, especially with Thunderbolt connectivity at hand.

goldfries rated this product :