1TB Drive from SanDisk – one could only dream of a 1TB SSD back in the past but now it seems that it is a reality but at quite a high cost but that's the price you pay to get high-speed fast storage, especially for notebook computers when you're working on the go.
There's little to no detail on what NAND type used, even on the official product page so we'll just leave it at that.
Benchmarks
As always I test the drives based on the claims, and the SanDisk ULTRA 3D SSD is said to have the following performance.
ATTO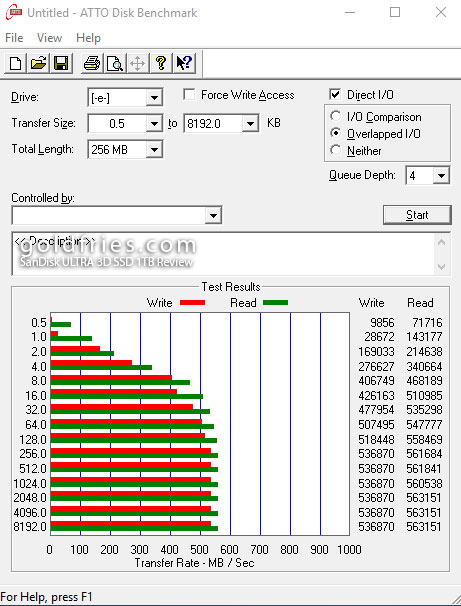 CrystalDiskMark
AnvilPro
It looks like the claims are justified, SanDisk claims Read Speed up to 560 MB/s and Write Speed: up to 530 MB/s and sure enough it is correct as seen on ATTO and CrystalDiskMark had it really close as well.
The Verdict
The SanDisk ULTRA 3D SSD 1TB retails at RM 1,489.00 – so expensive? Not quite, you see even 256GB SSDs retail at around RM 400 these days so to have around 4 times of space without costing 4 times as much is excellent, after all drives often cost less per GB when the capacity is higher.
My only complaint is that the package is just the drive itself, would've been great if they bundled it with some screws and perhaps even a mounting bay.
goldfries rated this product :