Following the foot-steps of the famous L9 series, the L9x65 is the taller (or thicker if you prefer) version coming in at 65mm instead of 37mm.
What it is as based on the dimension alone, it is a cooler that still fits many HTPC setup as it is still far lower than many tower type coolers that over over 100mm.
Below are the specs as seen in the official product page.
As so it is a cooler that isn't of a really low profile but it's not tall either, perhaps just slightly taller than the stock heatsink.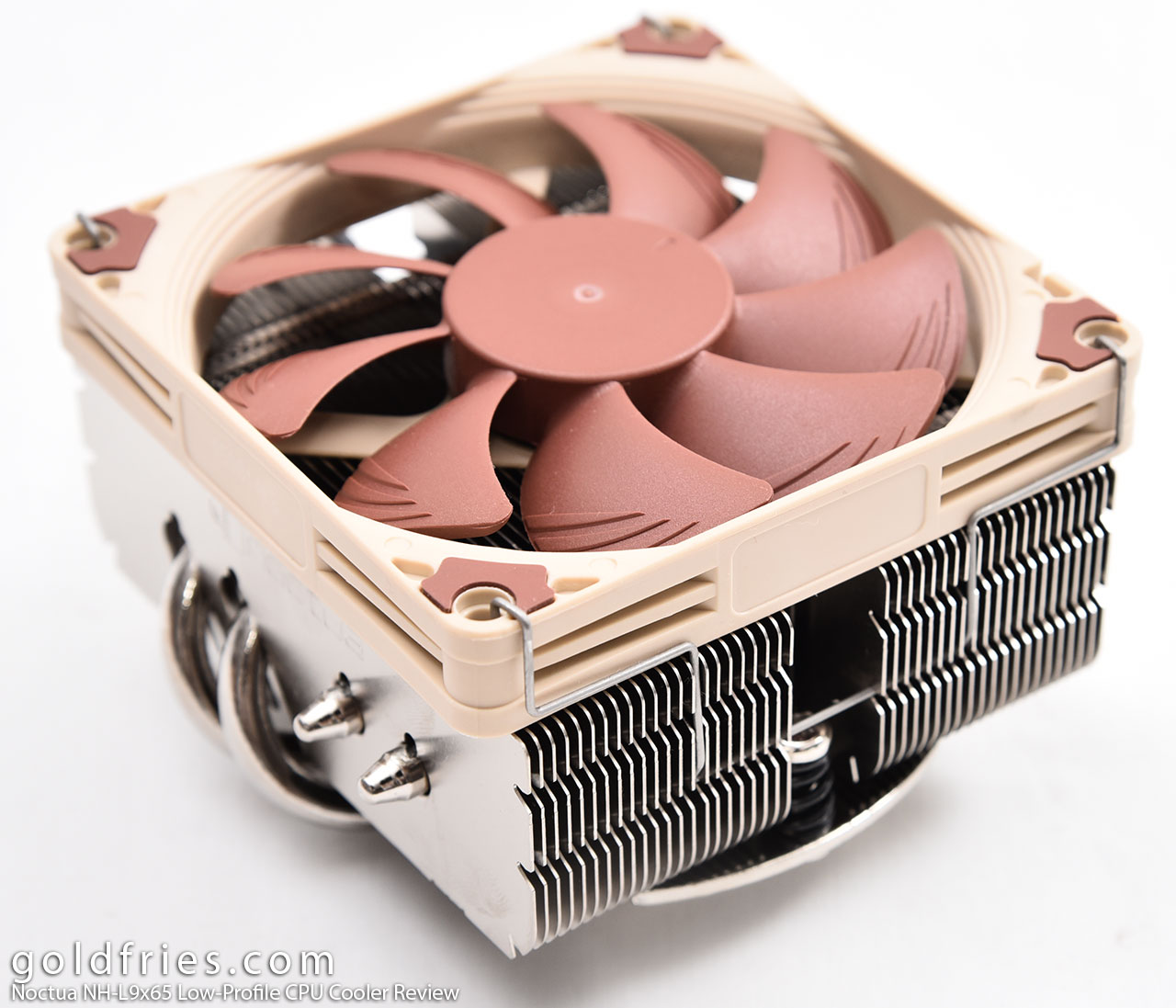 The unit doesn't come with any pre-fitted mounting points as the points are included as part of the packaging and you have both Intel and AMD mounts available.
The mounting is based on the side and as you can see it's not something you can easily mount with just fingers.
User Experience
The NH-L9x65 is such that (based on the image above) you will not be able to mount it properly without a screwdriver, one that has enough length to reach the mounting stubs.
You have 2 ways to go about it – have the screwdriver go through the fan blades, or remove the fan and mount the heatsink to the motherboard first. Either way the NH-L9x65 wasn't made for convenient dismantling.
Benchmarks
The performance was tested on an Intel Core i5-4670K overclocked to 4.3Ghz at 1.25 vcore with room temperature set to 25°C and the system was tested with a 10bit to 8bit video conversion test. Below are the results.
| | | |
| --- | --- | --- |
| Cooler | Idle (°C) | Load (°C) |
| Noctua NH-L9x65 (AUTO) | 38 | 81 |
| Noctua NH-L9x65 (MAX) | 33 | 81 |
| Noctua NH-L9x65 (SILENT) | 37 | 84 |
At full RPM the is reasonably silent, not like it's not audible but it's silent enough to be drowned by the other fan within the system. Bear in mind that this is an overclocked processor, on the average processor that's not under full load over a long duration and not overclocked, the fan need not spin at that level to maintain temperature.
The Verdict
The Noctua NH-L9x65 Low-Profile CPU Cooler retails at RM 249, it's a lot thicker than the NH-L9i but what you get is a cooler that is able to tame the heat levels of processor with high TDP. It's an excellent choice the 65mm height fits your Mini-ITX or low-profile casing. For low TDP processor, the NH-L9x65 could possibly run fanless.

goldfries rated this product :