If you think Ultrabooks are weak just because they're thin, think again. The HP ZBook Studio G3 Mobile Workstation are just exactly what they're named – a WORKSTATION.
The HP ZBook can support up to Intel® Xeon® E3-1545M v5, 32GB RAM, NVIDIA Quadro M1000M, 1 TB HP Z Turbo Drive G2 SSD and most importantly a 4K UHD 15" screen with IPS panel for a glorious looking display.
Here's a LEGO mini-figure to give you a better picture on how this is an Ultrabook, observe how thin is the device when closed.
Here's another photo with the LEGO Mini-figure for comparison, it is THAT slim. And what's most impressive is that it's no slouch when it comes to performance.
Being a workstation notebook, the hinge opening is important not just for durability factor but also for ergonomics. The HP ZBook opens very wide and this is very helpful when you're working with the device on your lap and have little to no room to layback, the wide opening helps you cover as many view angles as possible.
What we have on the HP ZBook model here is the glorious 15.6″ diagonal UHD DreamColor UWVA IPS anti-glare LED-backlit screen with 4K UHD resolution. That's 3840 x 2160, and in case you didn't get it, that's 4 times Full HD resolution! You can imagine the pixels-per-inch as you cram 4K UHD resolution unti a 15.6″ screen.
HP definitely put much thought into button placement. Starting off from the upper left corner is the POWER button. It's placed with a distance between the keyboard and it's a button that doesn't trigger with just a touch, this way you don't accidently enter into Power Down process.
On the upper right corner are the speaker and Wi-Fi buttons, this comes in very handy when you're required to disable connection or mute the system's audio output.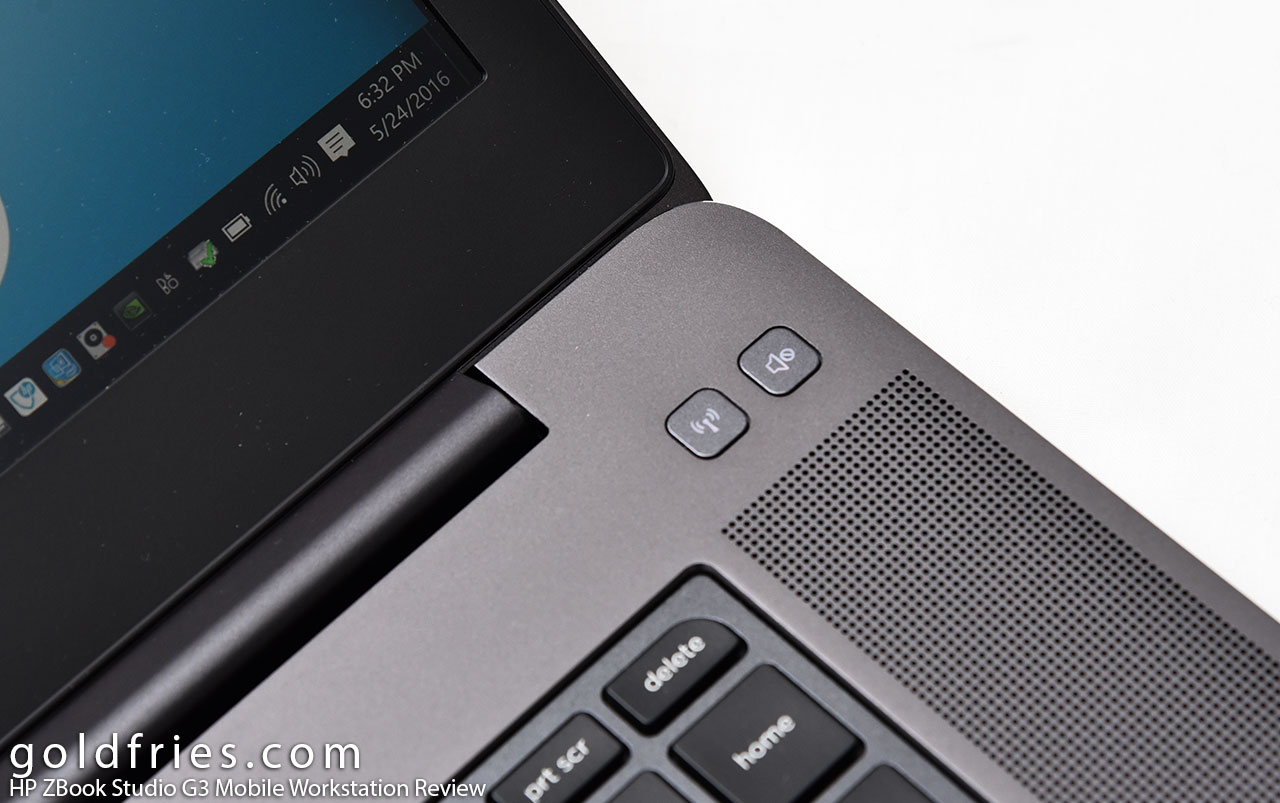 The keyboard and touch pad on the HP ZBook is amazing – as in amazingly comfortable, making it a pleasure to work on it. The keyboard is with white backlight and the illumination intensity can be adjusted to suit your liking.
On both sides of the keyboard are the speakers by Bang & Olufsen.
On the left side of the HP ZBook are the LAN port, 1x USB 3.0, 1x USB 3.0 (charging) and an SD Card reader.
On the ride side are the 2x Thunderboltâ"¢ 3, 1x HDMI 1.4, 1x USB 3.0, 1 stereo microphone-in/headphone-out combo audio port and power connection port.
As for the underside – it's actually very stylish, it's just too bad one doesn't get the opportunity to show it off regardless of work condition. It comes with a decorative combination of triangular opening, of which the area towards the rear are openings for the cooling system.
What I also like about the underside is that the rubber feet covers one whole circuit, from front to back and side to side.
Performance
Performance wise the HP ZBook is no slouch, the Nvidia Quadro M1000M comes with 512 CUDA cores and would be beneficial if one's software is able to use it. While the Quadro is Nvidia's range of professional purpose GPU, that doesn't mean one is unable to play games with it.
Here are the CPU-Z and GPU-Z details.
I tried Unigine Heaven 4.0 benchmark and surprisingly it's able to produce 22 average frames per second on 720p settings at HIGH (no AA, no tesselation).
As for processor benchmarks, well this one's really impressive. I put the Xeon E3 that's on the HP ZBook against the Core i7-6700HQ and the Core i7-6700K and below is the result.
| | |
| --- | --- |
| Processor | Time Taken(Seconds) |
| Intel Xeon E3-1505M | 161 |
| Intel Core i7-6700HQ | 199 |
| Intel Core i7-6700K (Desktop) | 141 |
Power Draw, Temperature and Battery Life
Being a processing power house comes at a price, not a bad one though. The power draw from the HP ZBook is similar to that of a desktop system.
Conditons
Power Draw
(Wall reading – Watt)
Idle
164
CPU Load (Encoding)
118
GPU Load (Furmark)
107
CPU+GPU Load
53
As for temperature, the system does run hot for the processor but note that this is not uncommon for a processor of this tier.
| | | |
| --- | --- | --- |
| Component | Idle(°C) | Load (°C) |
| CPU | 40 | 91 |
| GPU | 45 | 71 |
For battery life, the system is able to go up to almost 5 hours of operating time with screen at maximum brightness. This however is what Windows thinks, once actual usage comes you can expect it to be around 3 hours which isn't bad, considering this is a processing power house with 4K UHD screen.
About 5 minutes after unplugging the battery and initiating some software download, the battery drops some 3% and operating hours is estimated to be 3 hours and 22 minutes left.
User Experience
What good is the processing power if the HP ZBook is without a screen? Photos won't do justice on how beautiful the screen is (as mentioned earlier) of HP's UHD DreamColor UWVA IPS anti-glare LED-backlit display, sporting 4K UHD which is 4 times Full HD resolution. Being of an IPS Panel, you can expect the screen to produce accurate colors with sharpness that could make your eyes bleed, especially when you consider the pixels-per-inch you're getting with 4K UDH resolution crammed into a 15.6″ screen space.
The audio quality is pretty good too, especially when compared to other notebooks in the market. The speakers are from Bang & Olufsen and the output is reasonably loud. Mid tones and treble are pretty good but I wish that they could output better bass, the lows are non-existent but fortunately the higher bass seems to be there.
Being a pair of speakers that are placed at the upper side of the system, what you get is the consistent output, unlike those that are placed at the bottom where the output is affected by the type of surface that the notebook is placed at. Speakers that are placed at the front on the other hand tend to sound soft as their direction is far from pointing towards your head.
The Verdict
The HP ZBook Studio G3 Mobile Workstation is one fine device, it is available in various configuration and the price starting from RM8,500 and comes with 3-years warranty.
What the HP ZBook Mobile Workstation offers a complete package for getting work done on the go, with performance level that matches that of desktop computers.

Now, you stand a chance to have your creative work showcased across Asia and test out the powerful Studio Mobile Workstation by joining the contest! More details here: http://hp.nu/QOt3300DKzA
goldfries rated this product :