Wait, why are we looking at this? Isn't this the time for GTX 1070 Ti review? Yes it is but unfortunately there's no GTX 1070 Ti around so we'll just have to go with the Galax GeForce GT 1030. 😛
The Galax GeForce GT 1030 isn't the most attractive of card, cheap plastic and bright blue single fan setup, notice how the bright blue fan is very close to the ones found on Galax's old products. 😀
On the flip side of the view you'll see that the PCB is actually pretty small, the heatsink stretches beyond the height of the PCB while the shroud covers an even wider area.
At the rear – one HDMI and one DVI port. 🙂 VGA port is no more!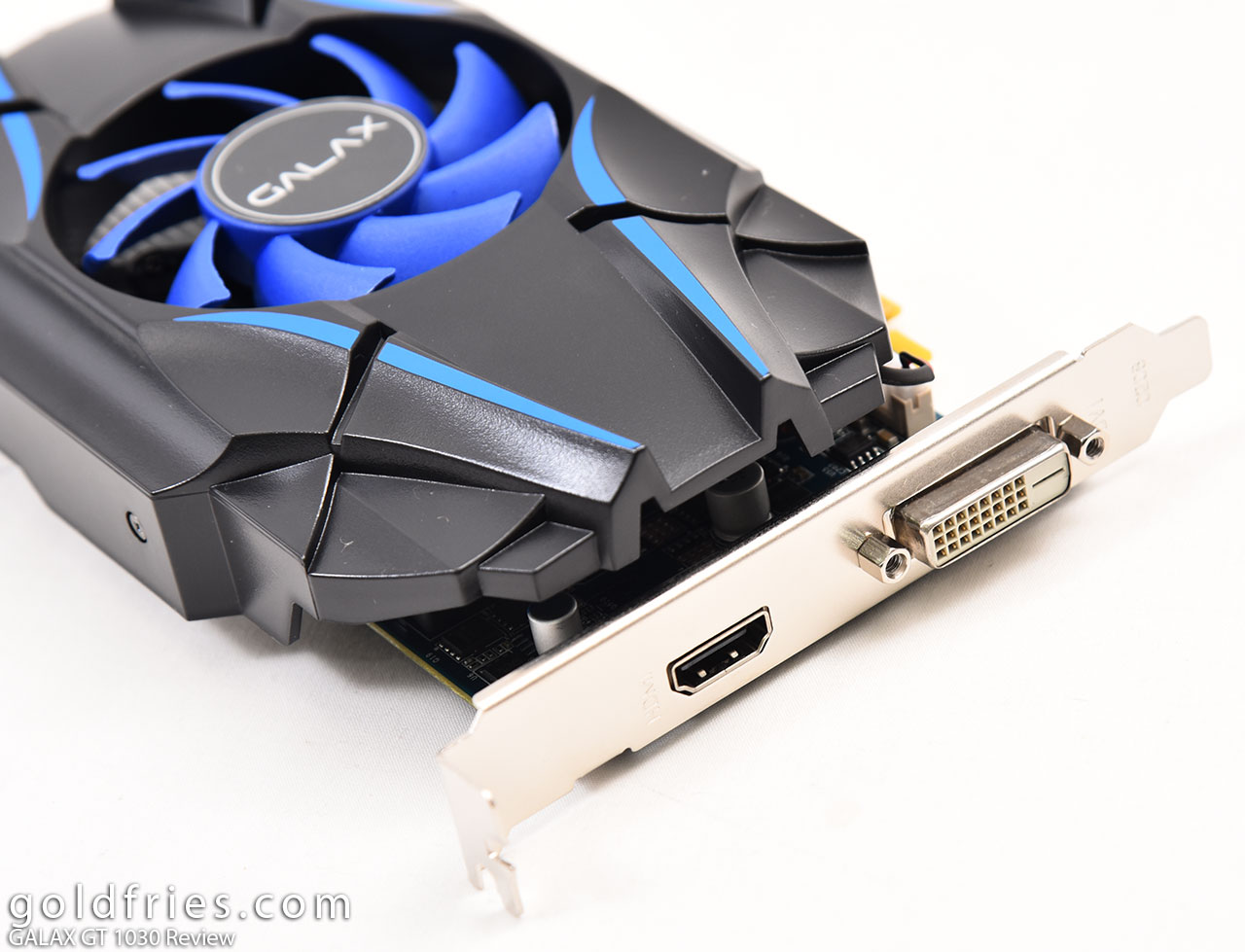 The card is as simple as can be.
Here's the link to the official product page.
You might be wondering – a card like this is priced at RM 359, who would want such a card?
Believe it or not there will be people interested in such a card, systems running on Intel's X99 and X299 platform and AMD Ryzen systems DO NOT come with onboard graphics. One could settle for much older graphics card at much lower price or go with this one with 384 CUDA cores and costs just around 66% the price of say a GTX 1050.
RM 359 vs RM 549? That's a few hundred saved, could be useful for other components of keeping the costs low.
The Benchmarks
On with the benchmarks, bear in mind that the Galax GeForce GT 1030 is a low end card so I'm comparing it to Intel's HD 630 onboard GPU.
It's difficult to measure how CUDA helps with work but here's an idea on how it helps with graphics work.
Fancy some gaming? Sure, go ahead with CS:GO – it works even on 4K UHD resolution, albeit quite a sluggish performance not in framerate but rather how the display update feels like it's trailing behind my mouse movement. Game settings on the next image.
The downside of the GT 1030 is that it lacks many Nvidia technology, for example NVENC isn't available so you can't use any form of game recording on it. Yes, you read that right – GeForce Experience's Shadowplay doesn't work and even Window's Game Bar doesn't work. You're stuck with FRAPS I believe and as you know FRAPS is horrible for game recording.
Based on my calculation the Galax GeForce GT 1030 draws about 35W, very close to the rated 30W for GT 1030 GPU. With that low power draw the Galax GeForce GT 1030 runs cool and quite, just 50% RPM of the fan is sufficient to cool the card on Furmark stress test, running at under 60c.
The Verdict
The Galax GeForce GT 1030 retails at RM 359, there's a better looking white colored model at RM 379 – get yourself a GT 1030 if you're focusing mainly on work, and have reasonably good screen response without breaking the bank. It works fine for games with light graphics as well, in case you need to game when bored. 🙂
goldfries rated this product :