The board carries the word "DELUXE" in its name with very good reasons – it is after all the most feature-rich board you can get.
The full-sized board is of ASUS' signature gold / black color, with gold colored capacitors and gold colored heatsinks all over the board.
The large heatsink surrounds the CPU socket and covers the chokes but provide ample space for large heatsink mounting. The CPU12V (4+4pin) connector is well placed at the corner.
What's notable around the DIMM are are the EZ XMP switch and dual front USB 3.0 connector. I haven't come by any casing that has dual front USB 3.0 connector but looks like the Z97 Deluxe is preparing for it.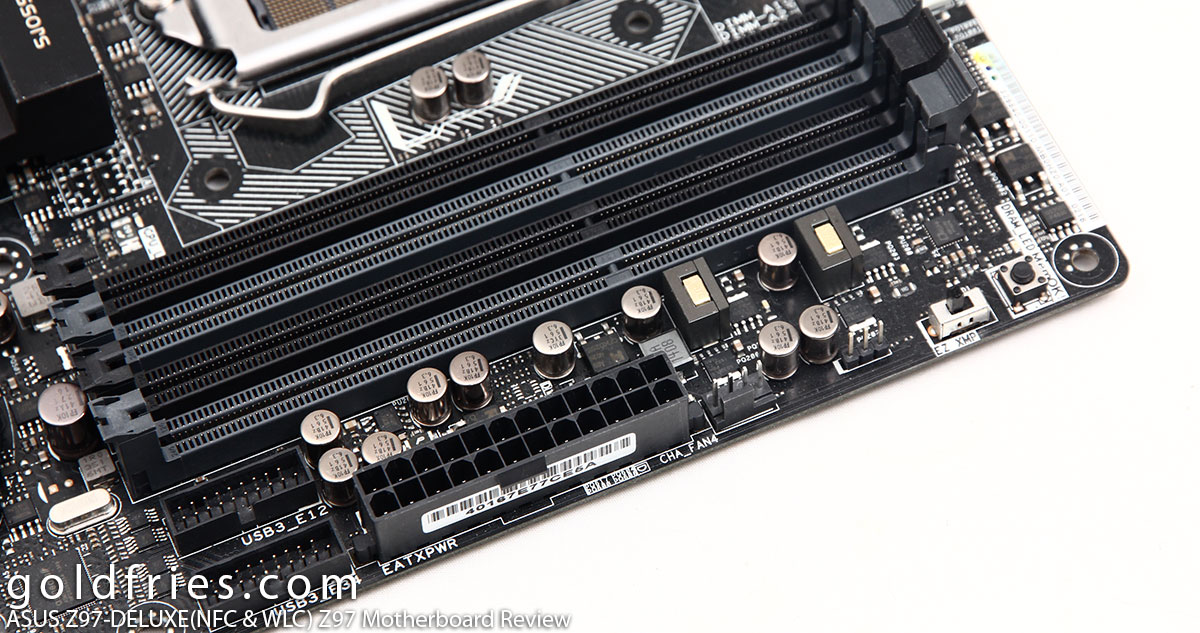 Keeping up with the latest trends to keep data access at peak transfer rate, the Z97-Deluex comes with M.2 connectivity and 2x SATA Express ports. Imagine running RAID with 10Gb/s transfer speed.
What's great about the board is that it comes with ASUS Q-LED and also 2 x PCIe 3.0/2.0 x16 slots that run x8 / x8 should you decide to run multiple cards.
As for the I/O ports – a lovely amount of USB ports, it comes with dual RJ-45 (LAN) port and it also supports Wi-Fi / BT / NFC connectivity.
The board comes also with Crystal Audio 2 to optimize audio settings and also provide features like shielding and quality components for better audio clarity and fidelity.
More details at the official product page.
User Experience
No board passes me without overclocking, and The ASUS Z97-DELUXE overclocks well but it seems to be not as capable as the ROG Maximus VII series.
As a board itself, I have no complaints. The features are so rich that I think it actually surpasses most people's usage. Clearly it's built for people whose lifestyle centers on the computer more than anything else.
Besides the onboard features, the board comes with ThunderboltEX II/DUAL, NFC Express 2 & Wireless Charger modules.
The Verdict
The ASUS Z97-DELUXE(NFC & WLC) Z97 Motherboard Review retails at RM 1,299 – a price not for the faint-hearted BUT you do get a host of features. If those features fit your lifestyle then clearly it's well worth paying a premium for this high-quality motherboard.
There are so many USB ports, there's absolutely no need for a USB hub. You get cool features like ThunderboltEX II/DUAL, NFC Express 2, Wireless Charger, dual-LAN, dual front USB connectivity and even SATA Express and M.2 connectivity for the fastest available data access you can get.

goldfries rated this product :