The U38N marks goldfries.com's first encounter with an AMD APU notebook. I'm not referring to encounters like coming by a unit at a shop, I'm referring to actual usage of a notebook as such.
The U38N's finish is no less impressive, giving it a classy brushed look.
The build itself is solid as well, with the front being a little bit angled.
On the left side is a USB 3.0 port and a card reader.
On the right, 2 more USB 3.0 ports, HDMI port, Mini VGA port, power port and the audio port.
The U38N comes with a huge touch pad.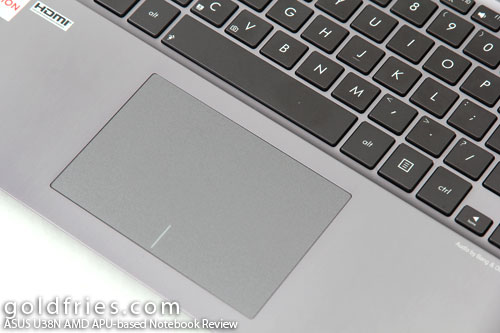 The keys are comfortable but one thing I really dislike about it is the power button on the upper right corner. The DELETE and BACKSPACE keys are some of the most frequently used and with a POWER button nearby, it's really not a good idea.
Below is the CPU-Z information.
And the GPU-Z information that doesn't actually show anything useful. 😛
More details at the official product page.
This review unit comes with 128GB SSD, 4GB RAM and Windows 8 64bit.
User Experience
Once taken off the power, the battery barely lasts 3 hours despite the low powered APU. 🙁 On top of that, the build quality for the screen needs improvement as the corners seem to be "loose" as in it doesn't stick well.
I don't know how to word it better but basically it's like the screen is peeling off at the corners.
ASUS claims that the audio system was based on SonicMaster technology co-developed with Bang & Olufsen ICEpower® but my experience was a let-down, considering I've experienced better audio output with some of their other models. What's even more hurting to the user experience is that the cooling system was loud, all it takes is a little web browsing to set the cooling fan to go into a whirring frenzy.
The Full HD IPS screen was great though, and I love that the APU can handle simple games like TorchLight II with playable framerate.
Here's the PC Mark result for those who are interested.
The Verdict
The U38N retails at RM 2099 for the unit I'm using. You get a nice Full HD, touch screen IPS panel with a capabe AMD A10 APU and decent audio output, and you get 3x USB 3.0 port too. On the downside, you have to deal with the noise and the build issue on the screen. It doesn't hamper usage though, you won't realize it unless you press on the corner of the screen. I hope it's just limited to this unit.
Overall, it's good stuff for RM 2,099.

goldfries rated this product :