I've long been a fan of ASRock boards and the ASRock Z370 Gaming K6 is one of the many examples of WHY I love their products. True, everyone's talking about the TaiChi model (Review to be published next week) but having both the Z370 Taichi and Z370 Gaming K6 models in my lab I can tell you I like this one more than the other.
While the Gaming series has traditionally been in red color, I like it that the latest Gaming model is in silver and black combo, the neutral tone would make it easy to fit pretty much any theme of choice though it won't be contributing to colors other than that on the RGB LED lit area. I love how the markings on the board are aligned with the heatsink at the SATA area, nicely done!
Over at the CPU socket corner, the 12-phase power design is covered by 2 heatsinks and on another piece of large cover that links the heatsink to the I/O cover.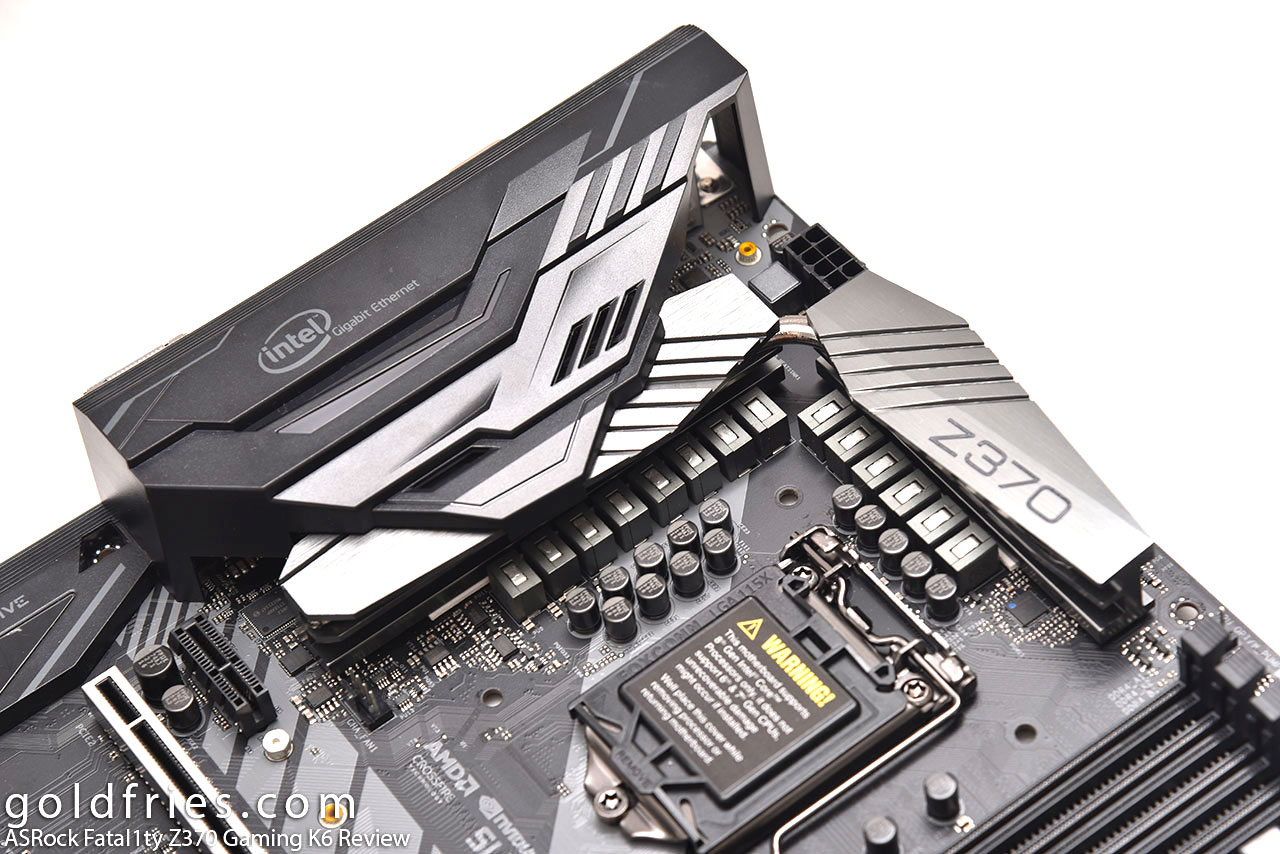 What do we have here? It's the POWER and RESET button! While I do not like placement of the buttons, I do appreciate ASRock having placed these buttons on the board. Having it placed at what I feel is a less ideal location (usually blocked by cables) is still better than not having it at all. Note also that there are 2x USB 3.0 front connector headers and a USB 3.1 front connector header.
Moving down south we have 8x SATA 6Gb/s ports, 2x Ultra M.2 socket and not forgetting the all-important debug LED!
*ironically they didn't highlight it at the official product page*
The ASRock Z370 Gaming K6 comes with 3x PCI-E x16 steel reinforced slots that supports 2-way SLI and 3-way CrossfireX configuration, and it also has Sound Blaster Cinema 3 system by Creative.
At the rear it has the following connectors
– 2 x Antenna Ports (Wi-Fi module NOT included)
– 1 x PS/2 Mouse/Keyboard Port
– 1 x D-Sub Port
– 1 x DVI-D Port
– 1 x HDMI Port
– 1 x Optical SPDIF Out Port
– 1 x USB 3.1 Gen2 Type-A Port (10 Gb/s) (ASMedia ASM3142) (Supports ESD Protection)
– 1 x USB 3.1 Gen2 Type-C Port (10 Gb/s) (ASMedia ASM3142) (Supports ESD Protection)
– 4 x USB 3.1 Gen1 Ports (Intel® Z370) (Supports ESD Protection)*
– 2 x RJ-45 LAN Ports with LED (ACT/LINK LED and SPEED LED)
– HD Audio Jacks: Rear Speaker / Central / Bass / Line in / Front Speaker / Microphone (Gold Audio Jacks)
User Experience
Unlike the Taichi models, the Gaming series is as what the name implies – made for GAMING. The Z370 Gaming K6 comes with Fatal1ty Mouse Port for mouse performance customization like polling rate, and also it has the Key Master that has Sniper Key and Macro Key, they are to enhance your mouse and keyboard with customizable macros, sniper modes, key repeat rates and repeat delay. It also has triple monitor support right on the board, but realistically speaking if you are gaming on triple monitors you will be using a graphics card. 🙂
The board is beautiful even without lights on and with lights on you see the board being lit at the key places and I must say it looks very attractive, the lights are RGB but I can't think of a better color to match this board than red. It has this Mecha kind of feel to it, just stunning.
I'm pretty much a sucker for ASRock's Gaming series board. I love their X299 Gaming i9 and X370 Gaming, the Z370 Gaming K6 here is just as good. You'll see that the X299 Gaming i9 and the Z370 Gaming K6 are of the new theme, straying from the original red and black.
The UEFI interface is just as what you'd expect, just that the EZ Mode screen is quite a let down. After all this is the Gaming series board – why is it using the blue colored screen like that of the TaiChi? Small matter though, I still got my processors overclocked easily and that's what I'm most concerned of.
The Verdict
The ASRock Fatal1ty Z370 Gaming K6 retails at just RM 915 and has 3 years warranty, this definitely is my favorite Z370 board as of now mainly because it's sub RM 1,000 and has all the neat features that I deem critical on a motherboard. I'm not a fan of RGB, I like it that there's minimal lights on this board and even the lit areas look good – that's all that matters to me.