Here's the Redline RL05 with the side panel removed, it's a spacious mid-tower casing.
At the front, 2x 140mm fans that are pre-installed and they sit right under the drive cage. The fans are almost in contact with the drive cage and the back cover so if you are thinking of installing a radiator unit, you might want to think twice over it. One thing I dislike is that the back cover does not come with any cutout so the cables on the fan will be visible when connected to the motherboard as you can't route it around.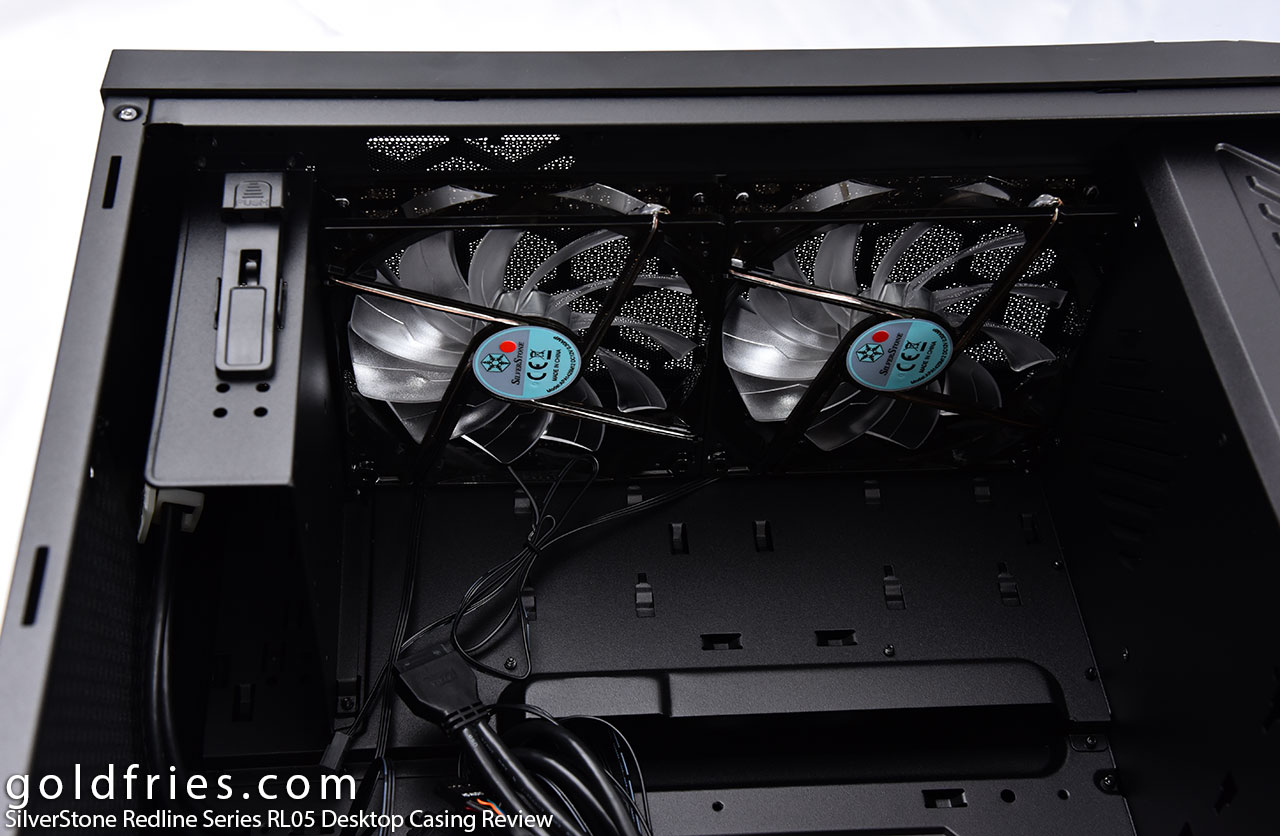 On the rear and top side, the Redline RL05 accommodates many setup but there's a limitation due to space constraint.
On the other side of the casing you'll see that there's good amount of space for cable management but power supply units with many or thick cables might make it tough to close the casing.
2 removable 2.5″ drive trays hang on the panel and they can be removed and place at the PSU shroud, 3.5″ drive cages are available under the PSU shroud.
User Experience
I can't fault the Redline RL05 other than having tough buttons (For power and reset) and also the lack of cutout for routing the fan cable. That aside the unit works just great.
What impressed me about the RL05 is the build quality, it's not the best of course but it's definitely not like the sub-RM 200 casings' quality.
The Verdict
The SilverStone Redline Series RL05 Desktop Casing retails at RM 300, a simple and nice casing that comes with 2x 140mm fan by default for positive airflow setup to keep the internals well ventilated. The casing isn't big and bulky and it's able to accommodate all sorts of setup, making it an ideal choice for almost any build.
For those with more "high-tech" design, you might want to have a look at the Primera PM01 – a much larger casing with no 5.25″ drive cage.
All in all, I'm satisfied with the RL05 and I think it's a great simple casing and it looks really great with proper setup – check out the image below.

– Intel Core i3-6100 (Review Link)
– Fatal1ty B150 Gaming K4/Hyper
– ADATA XPG Z1 DDR4 2400Mhz (Review Link)
– ZOTAC GTX 1060 AMP Edition (Review Link)
– ID-Cooling Frostflow 120L (Review Link)
– Transcend SSD370S 512GB SSD (Review Link)
– Unequaltech Cables (Product Page)
goldfries rated this product :