B85 boards are often very affordable and more often than not they're so plain that it doesn't look attractive, even vanilla looks better. This is not the case with Gigabyte's G1.Sniper B6.
In case you're not familiar with this range of board from Gigabyte, the Sniper series has always been the one with the green and black theme. Now why would anyone pay more for a B85 board as such? Well, it's full sized ATX with AMD CrossfireX support, it has 4x DIMM slots and it's beautiful. To top it off, the Gigabyte G1.Sniper B6 comes with green LED on the board that's controllable via software of which you are able to set it to solid, pulse, beat (based on audio) or OFF.
The clearance around the CPU socket is good, the heatsinks are quite small and they are not in anyway obstructing cable or heatsink placement.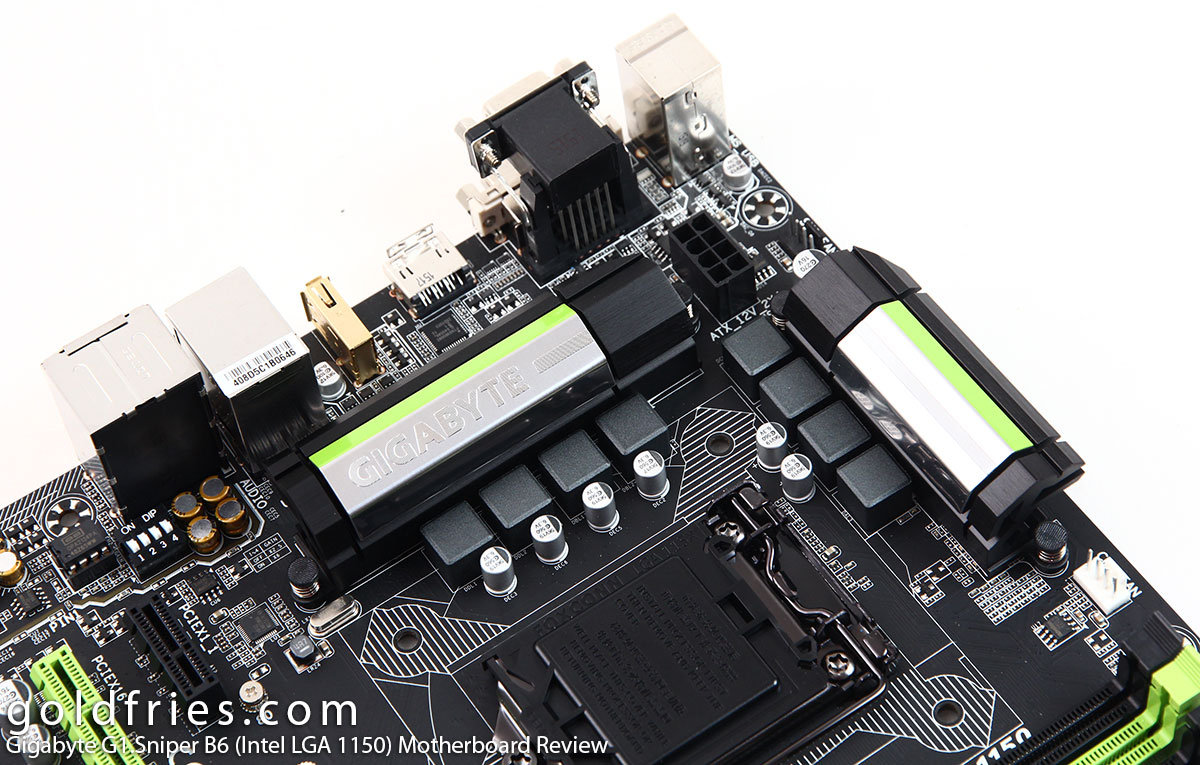 Nothing unusual about this part but note that there are 4 DIMM slots and near the ATX power connection towards the edge of the board is a strip of green LED.
The LED strips stretches all the way to the other end. The board comes with 4 x SATA 6Gb/s connectors, 2 x SATA 3Gb/s connectors and 1 x M.2 Socket 3 connector – Gigabyte!!! Why are those SATA 6Gb/s ports white?!?! It should be green like the rest of the components. 🙁
The G1.Sniper B6 uses Realtek ALC1150 115dB SNR HD Audio which is a high-performance multi-channel High Definition Audio Codec that delivers an exceptional audio listening experience with up to 115dB SNR, ensuring users get the best possible audio quality from their PC. The ALC1150 provides ten DAC channels that simultaneously support 7.1-channel sound playback, plus 2 channels of independent stereo sound output (multiple streaming) through the front panel stereo outputs. Two stereo ADCs are integrated and can support a microphone array with Acoustic Echo Cancellation (AEC), Beam Forming (BF), and Noise Suppression (NS) technologies. The ALC1150 incorporates Realtek proprietary converter technology to achieve Front differential output 115dB Signal-to-Noise ratio (SNR) playback (DAC) quality and 104dB SNR recording (ADC) quality.
The board also comes with GIGABYTE AMP-UP Audio that protects and insulate the audio codec and onboard amplifiers from electromagnetic interference (EMI), it also has an onboard OP-AMP socket that enables enthusiasts to swap out the motherboard's onboard operational amplifier (OP-AMP) and explore personal audio preferences using a range of nuanced OP-AMPs available on the market. Additional amplifiers can be purchased separately to further expand audio capabilities.
In reference to the image above – note that the board only supports AMD CrossfireX multi-GPU setup AND it only works in x16 / x4 configuration AND the x4 will only work at x2 speed if the M.2 socket is used as they share the same lane.
Lastly we have the back panel.
1 x PS/2 keyboard/mouse port
1 x D-Sub port
1 x DVI-D port
1 x HDMI port
2 x USB 3.0/2.0 ports
3 x USB 2.0/1.1 ports
1 x RJ-45 port
1 x optical S/PDIF Out connector
5 x audio jacks (Center/Subwoofer Speaker Out, Rear Speaker Out, Line In, Line Out, Mic In)
More details at the official product page.
User Experience
I never took interest in any B85 boards, simply because I love overclocking and B85 board doesn't suit me at all but I'm making it an exception to this board.
The board looks absolutely beautiful and even the UEFI looks awesome, Gigabyte needs to iron out the slight glitch on the interface but overall I'm pleased with it. I managed to set the multiplier for my Intel Core i5-4460 (which is a non-K model) to 34. The CPU-Z reading does show a "34" but the processor could only reach "32" (default) on load.
Looks like a B85 board isn't that bad after all, especially if you have something like say the Intel Pentium G3258. I did overclock the Pentium G3258 to 4.2Ghz at 1.275 Vcore and it worked flawlessly. 😀
Anyway, check out this video to see the ambient LED in action.
The Verdict
The Gigabyte G1.Sniper B6 motherboard retails at RM 450, that's quite a fair bit more than the usual B85 boards but you get a whole lot of goodies with it, including fancy lighting! It comes with some form of overclocking as well so in case your budget cap is keeping you away from H97 / Z97 boards.

goldfries rated this product :