The V1200 is the latest addition to Cooler Master's V range of modular power supply units, and not only is it the one with highest power delivery, it is also the one with the highest 80Plus rating – with 80Plus Platinum that is.
The box comes neatly packed, only this time it comes with 2 container bags instead of just one.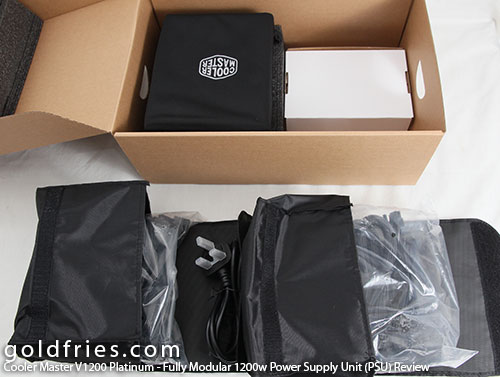 Here's the PSU, looking no different from the other V series from this angle.
The power delivery relies on a single 12V+ rail that runs at 100A, giving it a total of 1200W capacity.
While the fan may look the same, it is actually very different as the V1200 comes with hybrid fan operation mode that allows 0dba noise. This means the fan could be set to a halt (0 RPM) and will only spin when it needs to.
This is the switch that allows you to toggle the fan mode without having to open the casing.
And lastly – the view of the modular ports. Lovely isn't it? There's a yellow sticker indicating the connection point for the fan mode switch.
User Experience + The Verdict
The Cooler Master V1200 retails at RM 929 and has no problem delivering good power to high power draw systems. Over the weeks, I tested it with my quad Radeon R9 280X setup and run them at approximately 800w load 24/7 and the power supply unit didn't break a sweat.
Bear in mind though, the hybrid fan means you only get to select fan operation mode. It doesn't allow fan RPM control like what you see on the Silent Pro Hybrid 1300w
Looking to power some high end rig? The V1200 is the power supply you should be looking at.

goldfries rated this product :