The much awaited B450 chipset motherboards entered the market a few weeks back and with us today is the one from Aorus. The B450 AORUS PRO carries the signature Aorus design, a mix of silver, black and orange.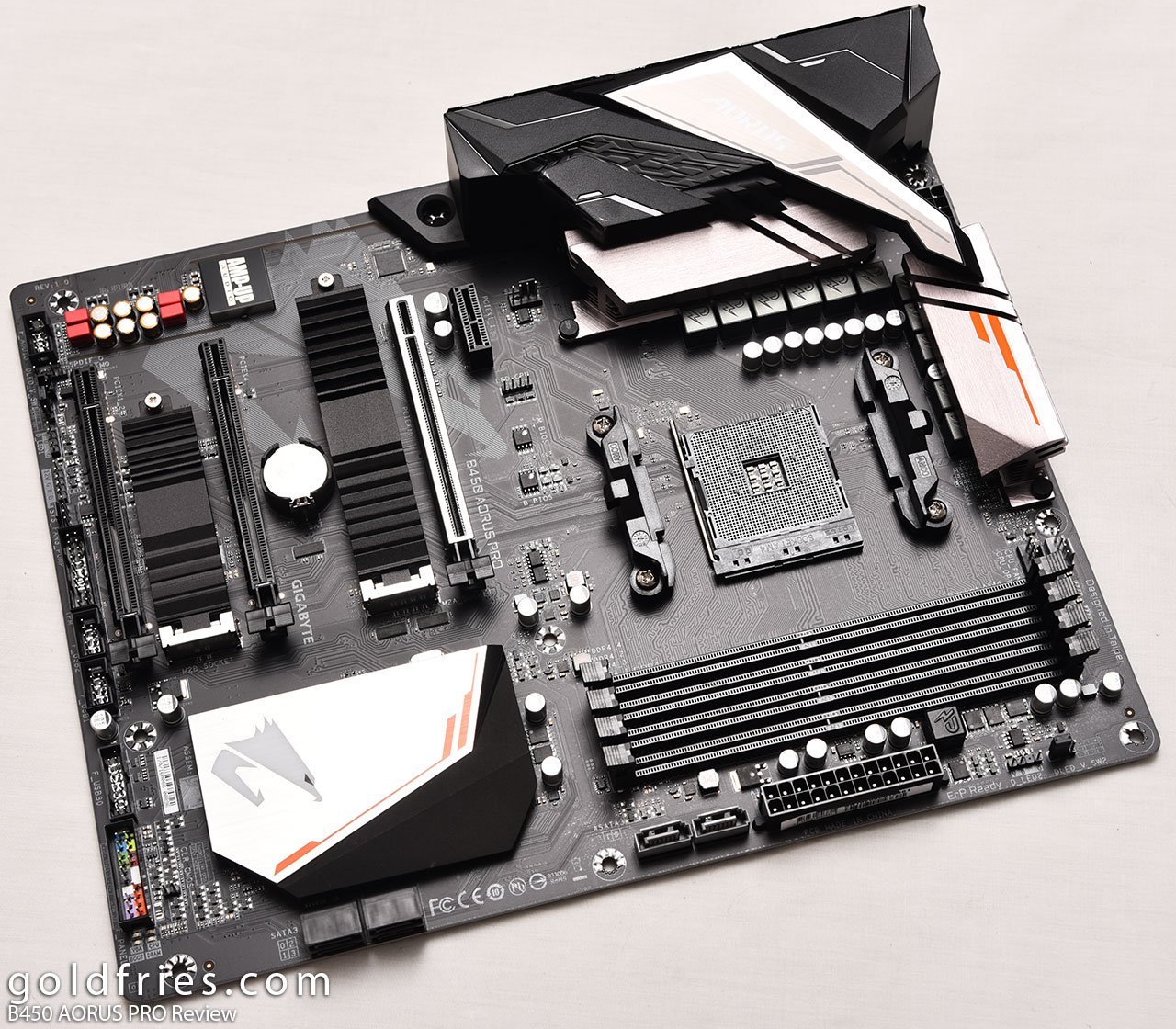 On the upper corner is a beautiful looking I/O shield that links both heatsinks around the CPU socket. As for the VRM, not this is the hot topic for the past weeks and I'll go through that a little later.
Now on this corner, nothing spectacular to highlight, other than the dual clip DIMM slot which I'm quite surprised to see on a board today. Fortunately the main PCI-E slot is one slot down to graphics card will not clash with the DIMM release clips.
Down to this corner you'll see the heatsink with Aorus logo with LED backlight. The SATA ports are very minimal but should be plenty for most users. Notice that there's also 2 other SATA port towards the DIMM slot.
Over here you'll see that there's 2x M.2 socket, both come with AORUS M.2 Thermal Guard but the sockets are not equal. The long one supports PCIe 3.0 x4 and SATA Dual mode while the short one supports only PCIe 3.0 x2.
I dislike this setup as the long SATA socket is obviously the main one but it's not cool (literally) that it's placed under the PCI-E slot for the graphics card. What this means is that you can expect the drive to receive heat from GPU, and that it's not accessible without the hassle of removing the graphics card.
As for the PCI-E configuration, the board supports CrossFire setup but it will run at x16 / x4.
Lastly the back panel, the I/O ports are limited, especially for USB ports.
1 x HDMI port
1 x DVI-D port
4 x USB 3.1 Gen 1 ports
1 x USB Type-C™ port, with USB 3.1 Gen 2 support
1 x USB 3.1 Gen 2 Type-A port (red)
1 x RJ-45 port
1 x optical S/PDIF Out connector
5 x audio jacks
Yes, you read that right! It's a DVI-D port that's on a motherboard! 😀
I must admit that I am a fanboy of AORUS' LED capability but this board is probably one of the dimmest boards around. The LEDs are only at the heatsink areas and the back panel of which I find serves no purpose.
User Experience
Before I started using this board, I came across various videos like the one about VRM on the B450 Aorus Pro running really hot and fails.
On my test bench I ran mine with AMD Ryzen 5 2600X and AORUS's own DDR4 at 3200Mhz. The Ryzen 5 has been overclocked to 4Ghz and 1.4vcore, it ran Blender BWM test and no instability issue occured.
To put it simple, I think the VRM temperature thing is blown out of proportion. This is after all a budge B450 Board that retails at only RM 509 – and even so I did 4Ghz 1.4v easily, you might actually encounter problem should you clock higher BUT then the voltage at 1.4 is already the ceiling in the UEFI and for higher clocks you should be going for X470 boards for overall better components. 🙂
With that cleared, here's the UEFI interface. It's good enough for me to achieve my overclock but I find it very limited and it will affect how I fine-tune the overclock. I've used many B350 boards before and for a B450 I was expecting it to have a lot more features but that's just me.
The Verdict
The B450 AORUS PRO retails at RM 509 and has 3 years warranty, I've not encountered any VRM issue despite having pushing the CPU to the limit beyond what most users would actually do. The board works great out of the box, comes with good set of features and is definitely of good value for money for builders on a budget.
I do wish that the UEFI has a little more options for fine-tuning overclock like say the load line calibration, and perhaps options to use fix or offset voltage. As for the layout I'm disappointed that the primary M.2 is placed under the graphics card slot which is not only the hottest place but it's also inaccessible without removing the graphics card.
One nice touch though is that AORUS has the DVI-D port at the back, if you're using a Ryzen with onboard graphics then you can also utilize the DVI port when need, like say if you have a spare old monitor.
goldfries rated this product :