Good things don't come cheap, cheap things not good – that's what people say and it's true but once in a while you may come by cheap things that are pretty good and the AVF Gaming Freak AKB-GK2 Gaming Keyboard is one such product.
The AKB-GK2 is a full sized keyboard that's "Gaming styled" with anti-ghosting, Windows-key disable, 3 LED colors with adjustable intensity and water resistant.
Details taken from the official product page.
The keyboard does not have any dedicated media controller keys, all functions are accessed by combo presses using the Fn (function) key with the other function keys (F1 to F12, and other available keys) to access the command. The commands however are not changeable, Fn + F9 for E-mail with no option to change the choice of software to launch.
At the bottom the feet for the keyboard is quite thick which I think is great for grip.
As for the LED glow, it looks like this, available in Blue, Red and Purple.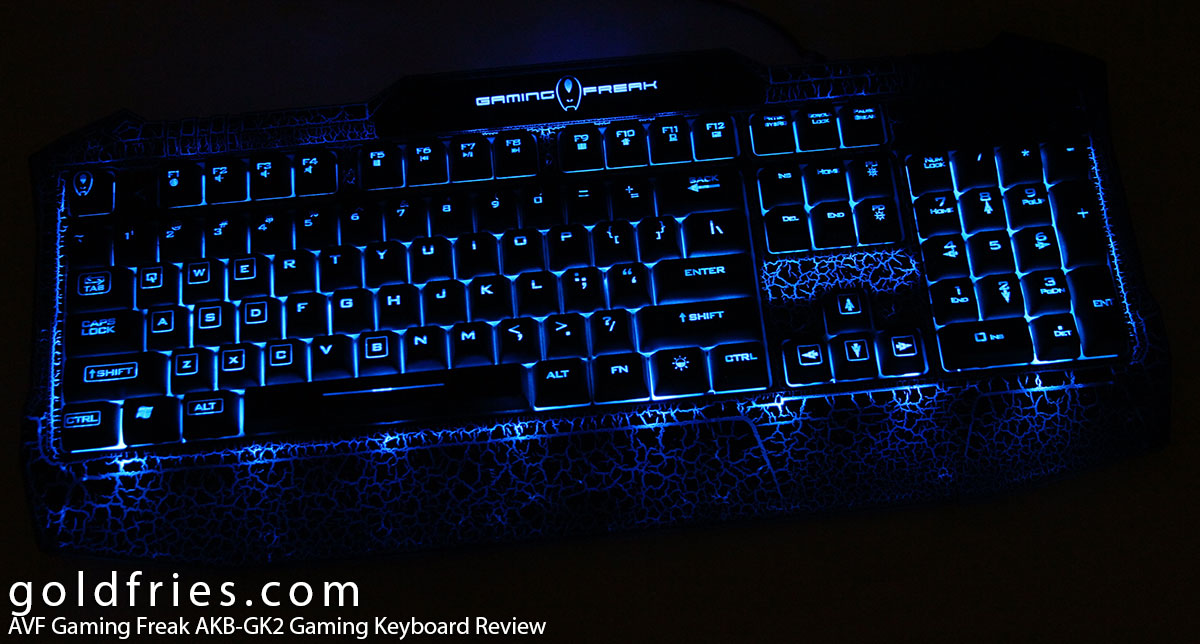 The glow on the keys look great from the top but once in actual position for use (around 45 degrees) the colors could look a little bit disturbing.
Notice how the keys are unevenly lit, this makes alphabets O looks a little like U, and Y and T look almost the same.
User Experience
As a gamer and regular keyboard warrior, I am not particular about how the LED lights the keys but for users who aren't so familiar with key layout then this might be a little annoying. I'm just glad that the keyboard comes with the option to adjust LED intensity and also the option to disable LED.
What I like about the keyboard is that it feels quite close to that of a mechanical keyboard using Cherry MX brown switch. A Cherry MX brown switch has this slight bump for each press, the AVF Gaming Freak AKB-GK2 has that bump too but it's less refined, not rough but there's enough bump for you to feel the difference.
The Verdict
The AVF Gaming Freak AKB-GK2 retails at RM 99, certainly a value-for-money proposition – it's a fraction (less than 1/3) the price of a typical mechanical keyboard and gives you some 50% of the feel of a keyboard with Cherry MX switch.

goldfries rated this product :