eBay recently not only upgraded their interface to improve user experience, they also introduced DEALS (yes, click it!) which is a section that summarizes the deals available, featuring their most trusted sellers.
I'm not someone who's new to eBay. Having used the platform for years as I hunt for collectibles, I've seen how eBay transformed through the years and I'm impressed.
I remember how eBay first wowed me with their automated voice call system to reset password, ahh the feeling of nostalgia.
The key to note about eBay is that they keep track of sellers, sellers with good sales record are what we call the TRUSTED SELLERS. Buying from a trusted sellers gives one a peace of mind, knowing that the seller MUST fulfill his responsibility to deliver the items ordered as soon as possible, after all it's the buyer that gives them the ratings.
I must say that my eBay usage pattern changed after they introduced ebay Deals – http://bit.ly/11t0K3F . I no longer visit eBay only when I'm looking for some collectible, I now visit Deals to see what items are on sale.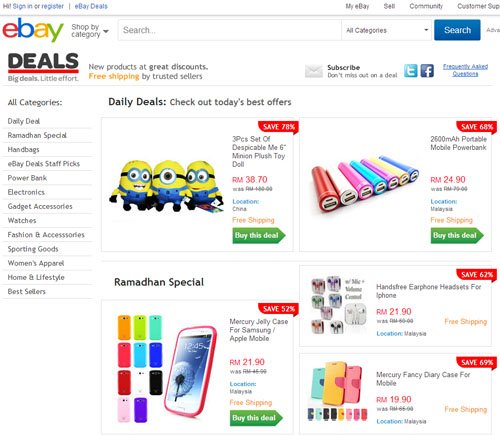 Purchasing items is just a matter of a few mouse clicks. As a registered user, all you need to do is to follow the steps and prompts to complete your purchase. It starts from adding item(s) to your cart, and ends when you made your payment.
Below was what I ordered recently, a powerbank.
So I made payment, and was told that it will take 7 – 10 days to arrive. Sure enough, I got my parcel in about 8 days after purchase.
Shopping with the peace of mind? Yes, it is.
What's your eBay Experience?
goldfries rated this product :