So you like the GTX 1080 but it costs a lot of money and it's usually very big in size, the ZOTAC GeForce GTX 1080 Mini comes in as a surprise powerhouse costing almost around RM 1,000 less than the highest end models and much smaller in size. Interested yet?
Before we continue, there's the video version of this review if you prefer it to be presented that way.
The GTX 1080 Mini comes with Zotac's excellent cooler design, image below is as seen on the official product page.
From the top you'll see that the card isn't thick and it has an 8-pin PCI-E power connector.
On the other side of the card is the beautiful back plate and what you can see are the various I/O ports, including the aged DVI Port.
Now for some size comparison against the ZOTAC GeForce GTX 1080 AMP Extreme that costs a bit more.
And here's the view from the top, the GTX 1080 Mini is dwarfed by the elder brother.
Put it simple, the GTX 1080 Mini is the size of a GTX 1060 AMP.
Here's the GPU-Z for the card.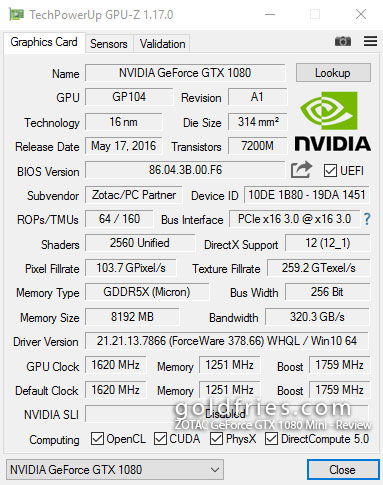 Test Setup
Benchmarks
Temperature
Furmark Burn-in Test was used to stress the card. Fan settings are at Auto. Room set to ~25c.
| | | |
| --- | --- | --- |
| Card | Idle(°C) | Load (°C) |
| ZOTAC GTX 1080 Mini | 32 | 66 |
| ZOTAC GTX 1080 Mini (Full RPM) | 32 | 57 |
Temperatures remain excellent despite set at Auto, with RPM hovering at around 54%, needless to say that there's not a need to run it at full RPM.
Power Consumption
The stress was done with Furmark Burn-in Test. Power consumption reading was taken from the watt-meter, actual power draw by the entire system from the wall point. I'm using an Cooler Master V850 with around 90% efficiency and the estimated system power draw (CPU, not including GPU) during Furmark test is 90w.
| | |
| --- | --- |
| Card | ZOTAC GTX 1080 Mini |
| Furmark Burn-in | 289 |
| Estimated Actual System Draw | 260 |
| Estimated Card Power Draw | 170 |
The Verdict
The ZOTAC GeForce GTX 1080 Mini retails at RM 2629 – it is compact, beautiful, performs at around 92% the capacity of the bigger brother which is the GTX 1080 AMP Extreme that costs an RM 250 extra, and it comes with the same 3+2 warranty.

goldfries rated this product :