GELID – a known brand in providing high quality PC cooling solutions has a foot into the PC Casing industry as well. The DarkForce casing is not new, and neither is it related to the Star Wars franchise. (Sorry, you don't get a free Yoda figurine with this!)
The casing is big. Not the biggest around but big nevertheless.
Buttons and ports are all at the top, this makes it easily accessible but I worry how much dust would the USB ports accumulate as time goes by. Blower anyone?
You'll notice that the top of the casing isn't flat, that's because there's this dock for you to connect your SATA devices right to it.
Withe the buttons and ports all at the top, that makes the front really clean looking.
As for the side, you saw the windowed panel in an earlier picture. What I didn't like about this window is that the acrylic panel is placed at the front instead of behind the case.
As for the rear of the case, there are holes for water cooling tubes to run around, along with a 120mm fan.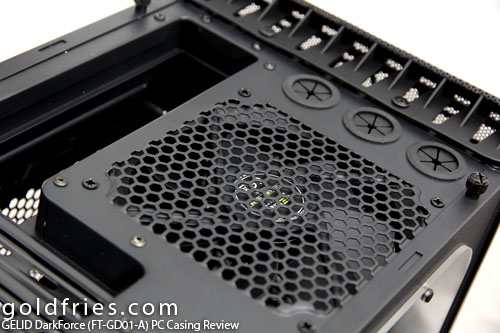 Another view, from around the PSU area of the casing.
The bottom of the casing is grilled, great for reducing dust intake.
GELID took pain to put minor details such as connectors, within the casing. This helps a lot in cable management.
There's plenty of room for drives and whatever you have in mind to occupy the front bays. The drive holding cages are removable as well.
The casing also comes with a solid base, with a cutout for ease of managing heatsinks with backplates.
Here's what the casing look like upon full setup.
What's the setup like?
For more details – head on to my new project called casemod.my
The Verdict
It's a great casing, prices hovers around 80 USD, around RM 250 – 300 range which I think is a good price for a casing of such build and space.

goldfries rated this product :