Introduced just a few months ago, the G20 is an attractive looking compact gaming desktop priced at a hefty RM 5,499 and with that price tag one can't help but question just how good it is.
So the G20 does look like it fell out from space, perhaps a container for Kryptonite or something. It does look sleek and would probably perform very well when put through wind-tunnel test as well, the appearance is as if a mix of an alien craft (not that I've seen one) and a luxury sports car.
Here's the view from the top of the G20, that's also where the heat is exhausted – best place to try your handkerchief too!
From the front there's a Blu-Ray drive, 2x USB ports and Audio / Mic port.
Here's the view from the bottom, the G20 comes with 4 padded feet for sturdy grip on surface.
Here's the view from the back, giving a hint that it's a mix of Mini-ITX board and a full-sized graphic card.
There's even a special slide-out plate to hold the important product certification label and such.
The G20 comes with dual-adapters – yup, you read that right. You'll have 2 power cables running to the unit, talk about having more mess. 🙁
The G20 also comes with keyboard, mouse and mousepad. They're as seen below (no photo for the mouse pad because I don't feel like photographing it).
The Benchmarks
Before we begin, let's have a look at the CPU-Z and GPU-Z for the G20.
A full fledged gaming setup it is, the G20 comes with various setup configuration. Full details at the official product page.
Starting off, let's look at the GTX 760 from the G20 reviewed here.
Unigine Heaven 4.0

*NOTE : Details are set High, 4xAA. Normal Tessellation.
| | |
| --- | --- |
| Card | 1080p (avg) |
| GTX 760 on G20 | 41.4 |
| GALAX GTX 960 OC | 46.3 |
As for the CPU test, I compared it to a Core i5-4670K in a video conversion test.
x264 – 10bit to 8bit Video Conversion
The source video is a 720p MKV file that is 90 seconds in duration. x264 settings at the slowest.
| | |
| --- | --- |
| CPU | Time Taken |
| i7-4790 | 178 seconds |
| i5-4670K | 228 seconds |
User Experience
Starting off, setting up the G20 was a breeze, the only thing tedious is that you're dealing with 2 sets of adapter so you'll need 2 sockets to supply power to the G20.
Based on the benchmark above the G20 works fine for many games, the GTX 760 works almost like a GTX 960 with the key difference being the power draw. The GTX 760 comes with more CUDA cores and greater memory bandwidth compared to the GTX 960 as well but the GTX 960 has newer architecture that makes it perform better.
CPU wise you can't go wrong with the Core i7 configuration. It's fast not just for games but for work as well, such as photo and video editing. The unit has 8GB RAM and 1TB HDD so that's got the RAM and storage part very well covered BUT being HDD, loading speed for games like GTA V might be a concern.
As for the bundled keyboard and mouse – they're nothing spectacular, and it really makes no sense bundling simple keyboard and mouse for a supposedly GAMING DESKTOP.
ASUS bundled the ASUS COMMAND software as part of the G20.
The software allows you to control many aspects of the G20.
With ASUS COMMAND you will also be able to control the lighting on the G20. Only downside about the ASUS COMMAND is that is simplistic and does not come with a profile management.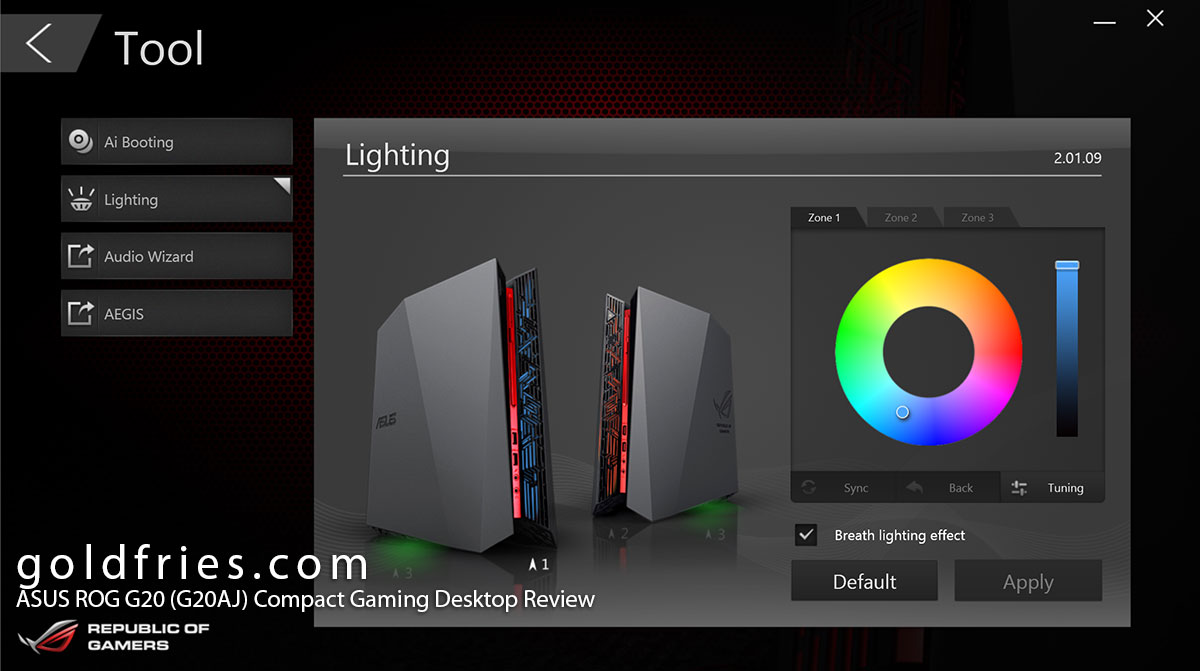 Here's how the color change works.
The ASUS COMMAND also comes with audio configuration capability.
Power Consumption and Temperature
The ASUS ROG G20 is a power hog, with wall draw up to 255W while running Unigine Heaven 4.0 benchmark. The wall draw hovers at around 275W when running Furmark stress test and video encoding concurrently, I've even witness a spike going above 300W. Actual power test should be less as I couldn't verify the efficiency of the power adapter but I reckon the actual power draw hovers around 200 – 250w range.
The unit tends to be noisy once it's on load as the cooling system goes mad trying to keep it cool, the GPU registers 88c in reading when performing stress test which I think is alarmingly high and would be higher once dust accumulates.
The Verdict
ASUS ROG G20 (G20AJ) Compact Gaming Desktop retails at RM 5,499 – is it worth it? Nope, not at all. That's paying a premium price for a sleek looking computer that's compact but not too far off from an ITX system.
The Core i7 + GTX 760 combo is just for whatever you're shelling out and it's a great power hog. A Core i5 4460 + GTX 970 configuration would be a lot better for gaming purpose and would probably be a justified purchase if the price is similar but from what I know, such variant is not available in Malaysia. 🙁
Put it simple – the product has potential but at this configuration and price, it's just plain unattractive.
goldfries rated this product :