Yessur Yessur, goldfries went missing for 10 days since the last article, that's mainly due to work, rest and of course – DIABLO III!!! Just about a month ago I published a Mini-Review of the game.
So is the game good? Yes. Is it really good? Not really.
Was the game fun? (Gameplay)
Yes, but here's the thing. In the mini review, I said it was fun because that was like 1 part of Act I only. It seemed fun then. However in my experience, I got bored with it after completing 2 out of 4 total Acts in this game in NORMAL MODE. I got so bored, I spent the next 2 days (weekend) playing Ragnarok Online with my wife (yay, party levelling!!).
Then I continued with Act III, that's where the action starts pouring in.
After you're done, what next? I tried out Nightmare mode. It's basically playing the same thing all over again, really boring in terms of story by now. You're now with your current character and playing against MUCH TOUGHER creatures.
I started Nightmare mode at Level 31, Monk character.
It was really tough and I finished Nightmare mode at Level 49. Then I had to repeat a few quests (yes, you can go back to any part of the story) to reach Level 50 before I was allowed to play Hell mode. In Hell mode, I'm experiencing what I had with Nightmare mode. So you get how boring it can be.
So It's Boring All The Way?
Depending on preference, instead of playing Nightmare mode like what most of us did. You could consider starting a new character but in my opinion, sticking to one character all the way is more fun. New character? Perhaps leave it for a time where you got killed TOO MANY TIMES in tougher modes, then you create a new character to relax. I did the same, started a Demon Hunter character just today.
You could also consider partying, then plan out the skills to use and coordinate with buddies. In my opinion, partying characters should not be too far in level gap. I tried partying with someone 10 levels lower than me. It doesn't make the game any easier, in fact the game could become tougher if your party member is unable to keep up and you have to solo against tougher mobs.
What Else Is There?
Weapon / Armor forging and Jewelry crafting is part of the game, a very costly one to upgrade the craftsmen. Here's the funny thing though, the crafted things are great for your characters at the start but in the end the drops will outclass every bit that you created. So the cost on crafting is more about achievement rather than actual purpose.
Sure, I created a new character, reached Level 10 and I could craft the armor and weapons since I have access to the storage and the funds, and even the craftsmen. This is very convenient to give my character a head start on better stats but that's about it. Once you reach Nightmare mode and on, chances are that the drops are better than what the craftsmen can forge.
Besides that, you could also acquire much better weapons for really low price at Auction House. I sold a RARE item for about 35,000 coins. That's a good one I must say but I don't remember the stats, all others aren't sold even when I price them at 1,000 coins. Why? Because the drops are so common and so many, people are just spoiled for choices. So for gears and weapons, you can just acquire them from the Auction House.
Graphic And Sound
Videos are found in the Mini-Review and all over Youtube. The game LOOKS GREAT! I'm playing i on a HD 7870 graphic card 1680×1050 resolution with maximum details. You could play with lower spec card with lesser details and I doubt you'll feel the difference.
I've tried it on AMD A8 3850 onboard GPU on a lower resolution monitor and it works fine too!
The details are great, even the armor is reflected on the character itself (the character sprite was magnified further from the 100% size of the screenshot)
Conversations were interesting, love the random chats between my character (monk) and the Enchantress, I laughed at many of them. Kudos to Blizzard there for their casting efforts, the voices and characters match very well, even those characters that read the lore and various other scripts found along the journey.
Cut scenes were few but generally well done. There's the artistic cut-scene where it looked like brush stroke masterpieces on brown paper, while another form is in 3D animation. I must say I enjoyed watching them, love the textures, lighting, color – Blizzard has always been good at this. 🙂
Playability / Replay Value
You have to play the story again and again. It's boring. After finishing the game, you have the 3 choices.
a) Create a new character, and finish the game in NORMAL MODE again.
b) Use the existing character, and attempt to finish the game in the higher difficulty levels. I recommend this one as it allows you to enjoy what you've created so far EVEN MORE but bear in mind that those modes are A LOT tougher.
c) Stop playing the game. Least recommended path.
Here's my character statistics at level 54.
At later levels, even the follower has stats better than your character at level 30!!
And of course, the accomplishment of yours truly ………. so far.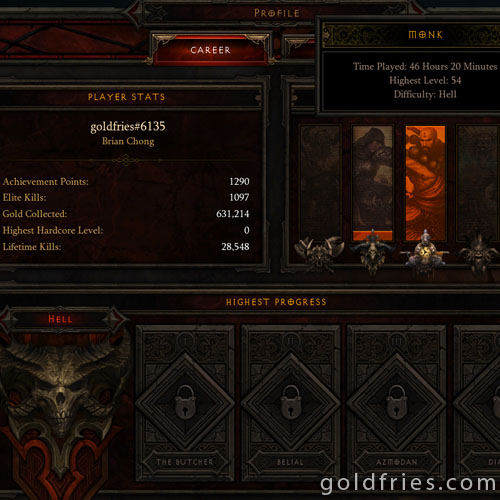 Network / Connectivity
I rarely face connectivity issues, while some people face disconnects that are so frequent that they got fed up. The issue mentioned in the mini-review, was found to be a problem with the Wi-Fi router providing by my ISP. 🙁 I've sinced switched to LAN, connecting via my Linksys router (my favorite one) to the ISP router. I've also face less death in COD:MW3 multiplayer. 😀
Connection is good, with green bar most of the time. (There's a connectivity indicator).
What sucks is the DRM. You can't even play SOLO mode if there's no Internet Connection. I mean really, that sucks big time. And to make things worse, your game depends on the Internet connection, even in Solo gameplay! I've had cases where I died due to slight lag, the boss just suddenly appeared next to me and WHAM! Bye bye. 🙁 I don't see how my solo gameplay should be dependent on Internet connection, I understand the authentication part but not the part on how the minions are affected by connection.
In other cases, once the connection is off, you'll see your character being able to move and approach creatures but they're not attacking you and your attacks on them aren't working either.
Conclusion
Whether or not is fun to play really depends on individual. I got bored with the story. I came to a point that I just skip some monsters and exploration and get the task done. Reminds me of the show Groundhog Day (or if you watch Anime, think The Melancholy of Suzumiya Haruhi Season 2, Endless Eight).
What does it mean? You just play the story again and again, with variation in weapons and skills you have. Boring? Fun? You decide. I'm in between. To me, playing is just because I wish to settle the story in a particular difficulty level.
To add, at harder modes – dying is fine, walking back to the scene of death is the one that drives you mad. 😛
[strike]I'll give the game 7 out of 10. It's not that great. [/strike]
7 out of 10 was before I reach level 60. After discovering the nonsense. The game is actually 3 out of 10 at best because at level 60, you still can't beat Inferno mode. And you have to play the game again and again and again just to hopefully get gears to progress. It's too gear dependent, you can't even set your stats. 🙁
Game Rating
goldfries rated this product :