News came about that Diablo 3 is having Open Beta so I decided to join Diablo fans from across the world. Some of them have been on Closed Beta before, however now's the time for OPEN BETA, a great way to test server load.
Truth be told – I've never played Diablo. 🙂 Haven't experienced the first nor the second. I've only seen some action at cyber cafes.
Anyway back to the game. Connectivity wise, it wasn't much of a problem for me. I'm on the local ISP's Unifi service, I manage to connect to Battle.net's America server with relative ease while some contacts of mine have not been able to log in despite trying for more than 2 hours.
Mind you, the Open Beta begins at 3AM (that's +8 GMT) on 21st April, TODAY!
I've only tried out 2 characters, Barbarian and Demon Hunter. I must say the Demon Hunter is a lot more fun than Barbarian. 😀
The game played well on my 1680×1050 screen using Asus HD 7770 graphic card. Other details of the gaming rig – Intel Core i5 2500K, MSI Z77A-GD45, Kingston 1x 4GB Value RAM.
Here's the character setup screen.
Here's a closer look at my character. Kate Beckinsale? 😀
Here's the screen during the game.
The above image is rather small, so here's a close-up of the scene.
And a close-up of my inventory screen.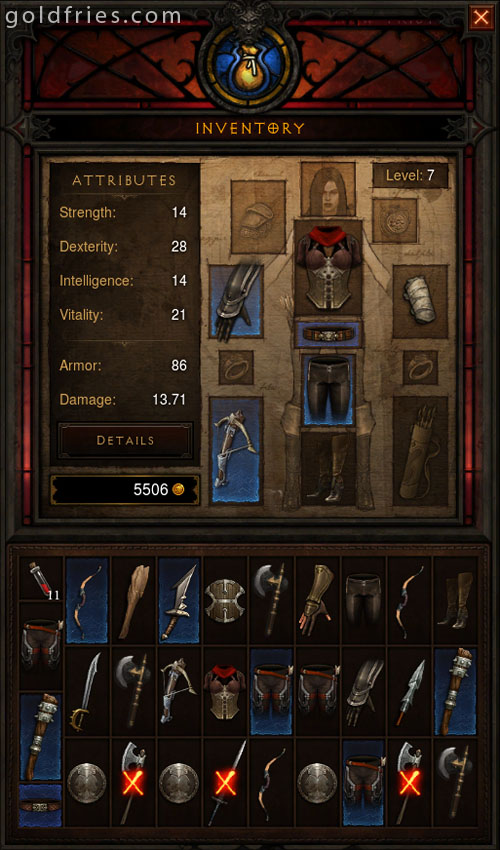 Regardless of the images, let's look at the more important aspect of the game……….. THE GAMEPLAY!
Here's another video, using different set of weapons and in the dungeon.
Overall my experience was good. There's the occasional connectivity issue that I face even on Call of Duty : Modern Warfare 3. The signal goes missing and the game is paused for a while, which in one scene nearly resulted in my character's death. The game doesn't seem to be demanding on the system, A HD 7770 isn't a high-end graphic card but it already looks graphically stunning. Audio-wise the soundtrack is impressive, and the sound effects are good.
*UPDATED : connectivity issue due to my nonsense router provided from local ISP.
Was the game fun? Yes, really fun! I like the myriad of accessories (drops) that are found. Those of you familiar with RPG genre + arcade action would have no problem with the game. It's a no-brainer, really. Those who played MMOs before, this is similar.
The game is available for Pre-Order now. 😀
More details at Battle.Net
goldfries rated this product :